Once a week, come back to the It Gets Better Project's Moments of Joy, where we curate positive, queer news from around the world. Even when it feels scary around us, there are still moments of joy we can all look to to remind us of the beauty in our world. It will get better.
---
July 21, 2021
Joy, safety and alpacas: Queer community thrives on trans-owned ranch (NBS News) – Alpacas at the trans-owned ranch: where can we sign up for a visit?
Nashville Predators prospect Luke Prokop comes out as gay (Outsports.com) – "When I think about the feeling of being free, that was the closest I think I've been to it so far." Congrats, Luke!
A conversation with environmentalist drag queen Pattie Gonia (Yale Climate Connections) – Meet Pattie Gonia: the drag queen on a mission to build a more inclusive climate movement

June 4, 2021
Lesbians in Ballet: 'Has Anyone Like Me Ever Walked These Halls?' (NY Times) – Meet the genderqueer lesbian who founded an inclusive ballet studio
A Proclamation on Lesbian, Gay, Bisexual, Transgender, and Queer Pride Month, 2021 (White House) – Read the Presidential Proclamation for Pride month
Yes, You're 'Queer Enough' — So Call or Label Yourself Whatever Feels Right (Healthline) – If you're not feeling "queer enough" this Pride season, here's your reminder that there's no perfect way to be LGBTQ+ – you're killin it the way you are, right now
May 27, 2021
Niecy Nash, Jessica Betts, and the Great Queer Love Story of 2021 (Advocate.com) – "She was all I could think about. I was like, I never want to imagine a future without this being." 🥺
'We've finally made it': Streamers ecstatic as Twitch finally add transgender tag – and hundreds more (Pink News) – Transgender: the new tag on Twitch! 🏳️‍⚧️
Finding A Queer Therapist Can Be Hard. Here's How The Queer Community Is Making It Easier (Refinery 29) – "Being able to talk about my identity and the things coming up in my relationship, the things coming up for my gender, without having to explain anything has been so valuable and it makes me feel so safe." 🏳️‍🌈
Here's your queer, 2021 reading list! (Pride.com) – Queer YA we're ready for 📚
Watch the epic new trailer for Eternals featuring the MCU's first openly gay superhero (Gay Times) – Hello to Phastos: Marvel's first openly gay male superhero in their cinematic universe! 🦸‍♂️
May 20, 2021
Before Stonewall, Cherry Grove: How a beach town became a gay 'safe haven' (NBC News) – Before Stonewall…there was the gay beach 🏖🍒
Ryan O'Connell on Special Season 2, His Character's Sex Education (Advocate.com) – Special's last season: "Being one of the first people to depict disability and queerness, it was a lot of pressure that I put on myself. You want to do right by everybody."
Demi Lovato comes out as non-binary: "I will be officially changing my pronouns" (Gay Times) – "I'm doing this for those out there that haven't been able to share who they truly are with their loved ones. Please keep living in your truths & know I am sending so much love your way." 💜
How I reclaimed my Asian identity and found my voice in the queer community through art (Insider.com) – "It was my duty to show queer people in a beautiful light, something I've never seen much of in films or television." 📸
7 video games showcasing Trans, Genderqueer, and Nonbinary characters (INTO) – "By designing an Arab trans person that isn't far into their transition, I'm basically reaching out to all of us who are closeted and saying, 'I love you, and you're not alone.'" 🎮
May 13, 2021
Watch Pose star Dominique Jackson bring some Elektra fabulosity to House Hunters (Entertainment Weekly)- "The category is: Securing a fixed-rate mortgage!"
SNL's Bowen Yang and Joel Kim Booster talk about their "life changing" friendship (Gay Times) – Bowen Yang & Joel Kim Booster on being double minorities (and friend goals) 🏳️‍🌈
How to Be a Queer Person in the World Post-Quarantine (Them) – 3 tips for navigating being LGBTQ+ in the post-quarantine world coming soon 🌎
'Pride' First Look: FX Documentary Series Spotlights the Fight for LGBTQ Civil Rights (Slash Film) – The new doc on the fight for LGBTQ+ civil rights: "There's no place for complacency, we need to know our history."
May 6, 2021
Neighbors Help Gay Man Paint House in Rainbow Stripes After He Faced Threats (People Magazine) – "Stand your ground, don't let bullies tell you how you should be living your life." 🌈🎨
Lil Nas X to perform MONTERO (Call Me By Your Name) and new track on SNL (Gay Times) – Get your popcorn ready!
Proud drag kings on queerness, performing gender and being rude to cis men (Pink News) – 50 drag kings from around the world are coming together for virtual King Pride!
Exploring 'Queer Mythology' with the first transgender artist in residence at the Pfister Hotel (TMJ 4) – Trans art that celebrates being queer: "I'm going back in history and trying to find all the trans and queer deities and gods that already exist, and if they don't exist, I'm creating my own." 🏳️‍⚧️
April 29, 2021
Elliot Page Tearfully Recalls to Oprah Winfrey His Most Joyful Moment Since Coming Out as Transgender (E Online) – "It's being able to touch my chest and feel comfortable in my body for the… probably the first time."
Drag Race Winner Symone on What Season 13 Taught Her About Perfection (Vulture.com) – "Perfection is a guard. It's a way to not let people see you. It is not that serious, diva." 👑
The teens at the center of the fight over transgender athletes' rights (CNN.com) – Teens fighting for their right to be athletes: "We're brave enough to keep running."
Kehlani comes out: 'I finally know I'm a lesbian' (The Grio) – Not just any type of lesbian: "Gay, gay, gay."
LESBIAN VISIBILITY DAY: NINE LESBIAN WOMEN YOU NEED TO KNOW ABOUT (Attitude) – 9 lesbian stars to follow 🤩
April 22, 2021
Representation Matters: 7 Black LGBTQ+ Actors on the Characters That Inspired Them (Them) – Fave black queer characters + how Hollywood needs to make progress on representation 🎥
Black LGBTQ+ Notables See Justice in Chauvin's Murder Convictions (Advocate.com) – "This verdict will not bring George Floyd back, but it does hold one officer accountable for the killing of one Black person."
How Queer Women From The Past Are Inspiring TikTok Fashion Of Today (Refinery 29) – Waistcoats to corsets, puff sleeves and bobs!
The Queer Community Has A Long & Meaningful History – And An Empowered Future (Vogue.com) – 🏳️‍🌈 Knowing our history ➡️ building the best future
Country Singer Fancy Hagood on Life as a Gay Artist in Nashville: 'Our Stories Are All Important' (People.com) – "The second I took things into my own hands and I quit looking for validation, it all started falling in place." 🎶
April 15, 2021
JoJo Siwa's Message to Young LGBTQ+ Fans Proves Why She's the Best (Pride.com) – 🏳️‍🌈 Being a role model: "Love is awesome. You can be in love with whoever you want to be in love with, and it should be celebrated."
1,500+ Parents of Transgender, Non-Binary and Gender-Expansive Youth Condemn Anti-Trans Bills in Open Letter to Lawmakers (HRC.org) – We love supportive parents.
9-1-1: Lone Star's Ronen Rubinstein comes out as bisexual (Gay Times) – "It feels so good to talk about it, it feels so good to finally be comfortable with it." 💜
The Queer Asian Designer Taking On Toxic Masculinity With Sensual Knitwear (Paper Magazine) – Sweaters for "the feeling of being masculine, feminine, and everything in between." Sign us up! 🧤
In the Bay Area's LGBTQ+ Square Dancing Scene, You're 'Instantly Welcome' (KQED) – 🟪 Square-dancing, but make it LGBTQ+ 🤠
April 8, 2021
How Kehlani Carved a Path As a Queer Musician and Mom (Advocate.com) – "We'll be reading queer stories, queer books where the baby has two dads, two moms, two parents who don't identify as either. She sees healthy queer couples."
This queer 'Genera+ion' doesn't care what you think (Los Angeles Blade) – Gen Z queers in the house 🎉
BMX rider Corey Walsh is "stoked" to be himself after coming out as gay (Gay Times) – 🚲🏳️‍🌈 10th best rider in the world on coming out: "To anyone out there dealing with the bad days, it does get better."
National Poetry Month 2021: 7 Asian Poets Whose Words Are an Act of Resistance (Colorlines) – ✍️ Asian poets you should know: "Having queerness and my Chineseness intersect has always been very hard."
Asexuality is one of the most misunderstood sexual orientations. This is what it's really like. (The Insider) – 5 facts about asexuality 💜🤍🖤
April 1, 2021
In first, Biden issues presidential proclamation for Transgender Day of Visibility (Washington Blade) – 🇺🇸 For the first time, a presidential proclamation has been issued in recognition of #TransDayofVisibility.
Lil Nas X's Letter to His 14-Year-Old Self Is Heartwarming AF (Pride.com) – "I know we promised to die with the secret, but this will open doors for many other queer people to simply exist." 🏳️‍🌈💜
9 LGBTQ+ Books We're Looking Forward to This Spring (Vogue Magazine) – To the reading list! 📚
Visit the Queer 1940s in "SuperButch" (The Geekiary) – The queer webcomic of your 1940's dreams 🏳️‍🌈
The non-binary kid who changed the way their school thought about gender (Stuff) – "My teachers were like, you being on the stage as one of the first openly queer people is monumental at an all-boys Catholic school." ✏️
March 25, 2021
Here's a look at some of the moments that brought us joy over the last seven days.
'This is radical love' – the history of black queer Britain in pictures (The Guardian) – Enjoy excerpts from the Instagram digital archive "Black and Gay, Back in the Day" 🇬🇧🏳️‍🌈
Dr. Rachel Levine Confirmed to HHS Post, Makes Transgender History (The Advocate) – Dr. Levine confirmed = the first out trans person to be confirmed by the Senate!
Rep. Mark Takano on How to Fight Back Against Anti-Asian Racism (The Advocate) – Mark Takano, first openly gay person of Asian descent in Congress, on how we can help #StopAsianHate
Watch: Margaret Cho Celebrates the It Gets Better Project's 10th Anniversary (EDGE Media Network) – In case you missed Margaret Cho's 10 Years Better video…
Halsey Explained Their "She/They" Pronouns And Said The Update Feels "Most Authentic" To Them (Buzz Feed) – "The inclusion of 'they,' in addition to 'she,' feels most authentic to me."
How video games can help LGBTQ+ players feel like themselves (Washington Post) – 🎮 "Picking makeup or a crazy hair color for my avatar was a way for me to affirm my own gender, even if it wasn't something I was okay with doing in the real world just yet."
March 18, 2021
We're doing things a little bit differently starting this week. We want to bring you the best the internet has to offer in LGBTQ+ news. So each week, we'll be featuring five of our favorite headlines from the week before, all intended to put a smile on your face. So here's a look at some of the moments that brought us joy over the last seven days.
Elliot Page Shows Off Trans Joy on Time Cover (Advocate.com) – Elliot Page becomes the first out trans man on the cover of Time Magazine.
How young LGBTQIA+ people used social media to thrive during COVID lockdowns (The Conversation)
Our Favorite Queer Moments of the 2021 Grammy Awards (Out Magazine) – An article for everyone who only watches for the queen content.
These Fierce Portraits Capture the Freedom Only Found at a Queer Beach (Them) – One invite to the queer beach, please!
Batwoman star Javicia Leslie is the superqueero the world needs right now (Gay Times) – Bisexual Batwoman: "As a Black woman, as a queer woman, you don't hear it a million times throughout the show. We just allow her to exist."
March 11, 2021
Roaring Twenties
I love it when a really good show gets more attention, especially a whole other show that dives deeper into the first one. Lena Waithe's show Twenties, which follows a queer woman's journey to find love, is getting its own afterparty, Twenties The After Show. The show will be hosted by B. Scott, the first nonbinary host and executive producer on BET. B. Scott wrote in an announcement, "I am proud to make history as the first trans non-binary person to host and executive produce a show at BET. I am in a place of forgiveness and I am honored to help turn the page on the past and be a part of the network's move toward a more inclusive future for everyone." I am so excited to watch them and other Black queer voices dive deeper and talk about such an incredible show!
A Milestone Kiss
In 2013, Jodie Foster accepted the Cecil B. DeMille award for lifetime achievement at the Golden Globes. I was at the beginning of my coming out journey and resonated deeply with her frustration at being kept in the closet in Hollywood, the anger at her lack of privacy, and her public coming out moment. It was so bold, so affirming to hear a woman taking her power back and writing her own narrative. Last week, Jodie won another award at the Golden Globes. She won, in silk pajamas, and celebrated by kissing her wife, photographer Alexandra Hedison. That moment was another bold reclamation of Jodie's life and story. A private moment made public for all of Hollywood and the world to see has reaffirmed her as a queer icon.
Bridge to Equality
Reggie Greer has been busy. His resume is beyond impressive; he was an the Deputy Director of Public Engagement for President Obama's Department of Transportation, the Director of Constituent Engagement at the Victory Fund, and now the Director of Priority Placement and Senior Advisor on LGBTQ+ issues in President Biden's administration. As reported by Gay Times, President of the Victory Fund, Annise Parker, said "the respect and trust he's earned from LGBTQ leaders will make him an extremely effective adviser. He exemplifies the America United ethos, with a rare ability to bring diverse communities and interests together and rally them behind a common cause and vision." We are so excited to see the ways Reggie is able to promote LGBTQ+ inclusion in his new position!
March 4, 2020
A First Embrace
I'm lucky to have lived in cities where there has been no shortage of beautiful public art. Miami's famous Wynwood Walls, sculptures in Boston Common, and graffiti on every surface of Los Angeles have always provided a sense of community and serenity. Rome has just unveiled a mural of two women kissing, the first public-body-approved art in Italy to depict a same-gender embrace. The piece was created by artist Krayon and has been attempted to be installed for the last eight years, according to Wanted in Rome. Public art not only reminds us of the beauty in our world, but as a communal moment for us to understand what is important: nature, art, and love.
Give Than a Kiss for Me, Okay?
If you're at all interested in gaming, there is no way you didn't at least hear about last year's best game, Hades. As a game, it has some of the best character arcs, artwork, storylines, and gameplay that I have ever played. I was up multiple nights in a row, trying my hardest to make my way out of the underworld. But, what kept me coming back was the romance. Not only can you actively romance two people (is the personification of death considered a person?) of different genders at the same time, but there are also multiple queer romances built in to discover. It's no wonder that Hades won EA Games' first ever Gayming Awards. Hades, a game that took the gaming community by storm, did so by telling real, and inclusive stories.
Queering the Land
A group in Seattle, Queer the Land, is performing the ultimate acts of service for their community. After years of negotiations and fundraising, they have finally purchased a 12-bedroom home. The space will provide housing for queer people of color experiencing houselessness, have a garden to grow their own food, a food pantry, and a community center for other Queer the Land members. In an interview with Forbes, Linda Chastine said their hope is to "continue to develop the leadership and creativity and authority and experience of Black queer and trans folks in our work, and that we continue to center the needs of Black and indigenous queer and trans Two-Spirit people… Just providing our community with resources to sustain and to live in abundance and to thrive." This group could not be any more incredible.
February 25, 2021
For this week's Moments of Joy, we wanted to take a moment to celebrate Audre Lorde's life and legacy.
Her words are her legacy. Black. Lesbian. Mother. Warrior. Poet. That's how the legendary Audre Lorde would introduce herself. Audre Lorde's impact on feminism, civil rights, and queerness is unfathomable. Even if you didn't know it was her, you've read her work.
"The master's tools will never dismantle the master's house. Your silence will not protect you. You do not have to be me in order for us to fight alongside each other. I am not free while any woman is unfree, even when her shackles are very different from my own."
Audre Lorde's work focused on how she contained multitudes, on the idea of conflicting identities within one body. "I am defined as other in every group I'm part of. The outsider, both strength and weakness. Yet without community there is certainly no liberation, no future," she wrote in The Cancer Journals. As queer people, we have to find our community, to know that we can lean on and learn from each other. Even now, scattered around the world and kept apart, we can find inspiration in Audre's words to continue this vital work of uplifting and empowering our communities.
For me, Audre was the cornerstone of feminist studies. Her radical approach to all issues, her power in her identities, and her mastery over language have stayed with me far past my college years. I constantly find myself thinking about her ability to stand firmly in her truth, in her queerness, and make space for all of her intersecting identities. Her work brings joy because, for so many people, it is the first time they are understood in all of their multitudes. Her work and her existence highlighted the ways in which communities that were demanding equality and visibility (feminist, civil, and queer) had more to gain by understanding each other and working together than they could ever accomplish on their own.
She demanded to be known, and to be seen. We see you, Audre Lorde! And we thank you.
February 18, 2020
Bring the House Down
I'm pretty sure everyone reading this blog has one thing in common with me (I would love if it was my infatuation with honeybees): there is nothing better than parents supporting their kids. Six-year-old Aiden performed his heart out at a Hamburger Mary's in Orlando, Florida. His parents brought him to brunch, saying that he is a huge RuPaul's Drag Race fan. Aiden is a little shy at the beginning but he shines when he starts performing "This Is Me" from The Greatest Showman, all with the Brunch crew dancing choreo behind him. On the Instagram post, Hamburger Mary wrote "The rest is Magic, with not a dry eye in the house. There is nothing more beautiful than seeing parents who love and support their children whatever that entails." There is nothing more special.
And "P" Is For Pride!
One day, someday soon, I hope these little moments feel so commonplace and expected that they don't bring a tear to my eye. For right now, it's enough for Blue's Clues to include Pride in its alphabet song for me to start bawling (pandemic emotions, anyone?). On top of that, the song included flags for the trans, intersex, lesbian, and asexual communities. Such a simple moment has meant so much to queer young people.
"We Are Already Here"
In one of the most baller moves I've seen all year, 185 queer actors in Germany have publicly come out "in an effort for more recognition within television, film, and theatre." The group made their announcement on the cover of the daily German newspaper Süddeutsche Zeitung Magazin. They said "we identify, among other things, as lesbian, gay, bi, trans, queer, inter and nonbinary. Until now, we have not been able to talk openly about our private lives without fearing repercussions on our professional lives." I am so moved by these incredible people who banded together to fight for justice and representation!
February 11, 2021
Alllll Night, Gay Rights!
My mother-in-law, a huge country fan, has probably played the song "All Night" by Brothers Osborne about seven thousand times. I've heard it so many times it's starting to become my favorite song. Last week, T.J. Osborne came out as gay. In an interview with Time, T.J. said that he is "very comfortable being gay." T.J. has made history as the only openly gay artist signed to a major country label. Even though T.J. expressed concern over what the future will hold, he said "at this point, my happiness is more valuable than anything else I'd ever be able to achieve."
Excellence in Society
It is always a deep honor to learn about the incredible queer people who have lived before me. Nothing feels more important. This week, with the release of the documentary My Name is Pauli Murray, so many people (myself included) have become aware of the legendary Black, queer, gender-nonconforming activist and lawyer Pauli Murray. Until we have access to the film, The Daily Beast released an incredible article following Pauli's life and legacy. Be sure to read about the trailblazing lawyer that inspired Ruth Bader Ginsburg's career, challenged FDR, and became the first Black female-presenting person to be ordained as an Episcopal priest.
It Gets Better…Kind Of
Even after ten years and plenty of hilarious cameos, we still get excited whenever "it gets better" makes its way on TV. Now, imagine how happy we were when Saturday Night Live celebrated our ten year anniversary with their own It Gets Better video…kind of. Host Dan Levy, Bowen Yang, Kate McKinnon, and Punkie Johnson told us their stories about how things do get better, and then they get weird. This was certainly our moment of joy this week, and we were thrilled to see all of your reactions on social media too. We shared some of our favorites, and we're so glad you enjoyed this sketch as much as we did.
February 4, 2021
Beauty in Photos
Photographer Clifford Prince King is captivated by the beauty of the human experience a still image is able to capture. His work focuses on the Black queer experience through intimate moments in everyday life. His photos include two men hugging behind trees, and boys reading James Baldwin. In an interview with i-D, he said he hopes his photos "help people fast-forward through a lot of years of misunderstanding oneself." In what Clifford was missing growing up, he is showcasing for other queer Black men to see the details of their lives and experiences immortalized in images. You can see Clifford's work here.
Every Girl Deserves to Shine
We all deserve to feel comfortable and beautiful in our bodies. For Ruby, who transitioned at nine years old, the lack of swimsuits made her feel insecure. Her dad, Jamie, made it his mission to make sure Ruby and other trans girls and teens were able to feel comfortable and confident in swimsuits. Their company, Rubies, launched last year. Already, their website is full of reviews from parents of trans girls saying how impactful these swimsuits are on their confidence and happiness. In an interview with Insider, Jamie said "to know these kids have been able to go back to their activities and feel comfortable wearing Rubies, with a lot of them wearing them under leggings, that's what I'm most proud of."
"They Took the Camera Away From You"
We have a lot to celebrate in the 10 years since the first It Gets Better video. One of the cutest moments was at one of the first It Gets Better events in New Orleans, where Jen and Leah met. In our latest video, the couple shares how they met ten years ago, their engagement in Spain, and their message for queer youth. If you need a smile, their story is a must-see!
January 28, 2020
Swittens Forever
The most famous mittens in the world were made by lesbian mom and teacher, Jen Ellis. Her "swittens" are made from old sweatshirts. As reported by NPR, Jen decided to create an extra pair for Bernie during her holiday gift making in 2016. Luckily, Bernie's daughter-in-law happened to be the director at the school Jen's daughter attended. The mittens have since been spotted on the campaign trail and famously at the 2021 Inauguration of President Biden, transforming them and Jen into overnight sensations. When asked by the Star Observer if the mittens will be mass-produced, Jen said, "I'm not going to quit my day job. I am a second-grade teacher, and I'm a mom, and all that keeps me really busy."
Way to keep it real… just like Bernie!
Sometimes, YOU Are The Gay Cousin
Unless you've been living under Patrick Star's rock (or have never stepped foot inside a Target), you know who JoJo Siwa is. Former Dance Moms and current TikTok star, JoJo has been an icon for nearly eight years. Over the weekend, JoJo posted a photo wearing a shirt that said "Best. Gay. Cousin. Ever.," confirming her coming out as a member of the queer community (welcome, welcome!!!). According to Insider, JoJo said "personally I have never, ever, ever been this happy before and it feels really awesome." The article discusses how JoJo's coming out will have ripple effects for young queer people and their families. There is now a generation of kids who have their own queer Hannah Montana, and that's something to celebrate.
Not Another Second
I'm fascinated by in-community conversations and the nuance that we're able to achieve through them. One of them that comes up within the queer community is the necessity for "coming out stories." Often, the conversation leads to "why do we keep telling the same story? who benefit from them?" Then, an exhibit like "Not Another Second" premieres. The art exhibit in Brooklyn features 12 LGBTQ+ elders who have spent decades in the closet. NBC News shared what the exhibit looks like and the stories shared. Many elders "hope to empower younger LGBTQ people to live as their authentic selves." Christina DaCosta, director of communications for SAGE, said it's their "hope that this campaign gives people a little hope and a little bit more freedom, maybe, to feel like they can share their authentic selves and stories, and if not, just give them a little bit of a sense of community that they're not alone."
January 21, 2020
Here For You
Nats Getty, partner to YouTuber Gigi Gorgeous, has come out as nonbinary and trans in an Instagram post this week. In the post, Nats wrote that they have spent their "entire life not in sync with the body [they were] born with." They went on to say that "the process is truly beautiful." Nats ended the post with a message to all their trans family: "I am here for you, I am here with you, and I love you." Nats' wife, Gigi, has shared the journey on her YouTube channel. Every time someone is able to live their authentic life, the world becomes a more beautiful place.
The Most Qualified for the Job
There have been so many moments to be happy and grateful for this past week. One of the highlights is President (then elect) Joe Biden's nomination of Rachel Levine, the top health official from Pennsylvania, as the assistant secretary of health. If she is confirmed, Levine will be the highest-ranking trans official in the US government, according to The Washington Post. In her state of Pennsylvania, Rachel has created programs to help people through the pandemic and helped to tackle the opioid crisis. In his statement, Biden said "she is a historic and deeply qualified choice to help lead our administration's health efforts." After so many months (and years) of uncertainty, it is a relief to look to the leadership of highly qualified people.
We Have Grieved and We Have Grown
Few poems can so accurately capture a portrait of a nation in a moment in time. At President Biden's inauguration, the youngest inaugural poet Amanda Gorman read her poem "The Hill We Climb" to the entire country. The theme of the event was "America United," and Amanda took to task reciting a piece that recognized the gravity of the moment and the events that have happened the next few years. Gorman's piece recognizes the struggles and pain we have all felt as a community and calls for a better future. As printed by NPR, a portion of her poem reads:
We've seen a force that would shatter our nation rather than share it,

Would destroy our country if it meant delaying democracy.

And this effort very nearly succeeded.

But while democracy can be periodically delayed,

It can never be permanently defeated.

In this truth, in this faith, we trust.

For while we have our eyes on the future,

history has its eyes on us.
As a queer person, Amanda's words filled my heart with the hope that yes, even though we have grieved, we have grown.
January 14, 2020
Running for Change
The most difficult thing athletes should face is gravity. Unfortunately, trans athletes have to face much more than our planet's pull. Chris Mosier was the first openly trans person to represent the USA in international competition (in fact, he's gone on to do it six times). According to CBS News, he is "credited with prompting the International Olympic Committee to change its policy on transgender athletes."
This past week, Chris shared his story during the "Someone Like Me" Speaker Series. He said that "sport is a vehicle for social change and if we can make a change in our sports teams, in our sports leagues, in our community sports clubs, that change can ripple out into the rest of our communities."
Watch his segment below!
On Pointe
Growing up, one of my best friends was this incredibly talented human — a gifted artist, baker, and ballerina. I was fascinated by her ability to move so effortlessly. I was reminded of her talent when I read about Ashton Edwards. Ashton is a professionally trained ballet dancer who specializes in dancing on pointe. As I saw firsthand, the technique requires the dancer to put all of their weight on their tiptoes. Typically, this technique is reserved for female dancers. In an interview with King 5, Ashton said they are "beyond honored to be one of very few male-presenting dancers to train on pointe." They also said that "usually men don't go on pointe and it's very binary and men have their own separate training for jumps and turns, but for men to be on pointe at a professional ballet school right now hasn't really happened." We are so happy to see the beauty of dance be explored this way!
Alone to Grow
My partner loves watching YouTuber Alayna Joy, who produced the "I Don't Bi It" series. A couple months into quarantine, Alayna released a video called "The Wedding is off. Coming out again." In it, she spoke about how losing access to the queer community she had built caused her to rethink her sexuality, and if she wanted to be married to a man. Alayna isn't alone. In an article from Now Toronto, many queer and nonbinary people discussed how the space of quarantine has allowed them time and space to explore themselves. Career coach Ellyce Fulmore said that endless scrolling of TikTok gave her "the confidence and made me feel more comfortable to actually explore that side of me and learn more about it." It is incredible to watch our community grow and people explore themselves, even in these incredibly painful times.
January 7, 2020
One of our Youth Voices, Isabella Jimenez, is kicking off this week's blog with some words of encouragement for any LGBTQ+ young people who might be feeling scared or angry after yesterday's events. Those feelings are not only valid, but they're also totally OK, and in her words… "It's important that we're able to press on and mature past this time, united together."
"I Got Married to My Best Friend"
Among the endless "2020 in reviews" that flooded my social feed, one caught my eye. Nestled between Zoom calls with Nicola Coughlan (please invite me next time), doing gymnastics with Simone Biles, and celebrating an Emmy nomination, Jonathan van Ness confirmed that they got married to their partner Mark. In Instagram posts, both took a moment to celebrate being married to their "soulmate" and "best friend." I'm probably a huge sap for it, but queer people getting married gets me every time. Huge congrats to the happy couple 💖
A Year of Wins
I can always count on Bustle for quality reporting and some great news about the queer community. Writer Mari Wrobi compiled an incredible article highlighting all of the progress made for intersex people around the world. They discussed Pidgeon Pagonis' progress in banning intersex surgeries on children and infants at Lurie Children's Hospital (which then pushed for Boston Children's Hospital to make a similar decision a few months later). Mari also covered Ecuador's National Assembly approving a new "health code aimed at explicitly guaranteeing the rights of intersex people." The whole article is amazing and highlighted just how much progress was made, even if 2020 was otherwise a mess of a year.
The Right to be Parents
In December 2020, Indiana's Supreme Court denied a hearing that would prevented same-sex couples from being listed on their child's birth certificate. As reported by LGBTQ Nation, this issue has been ruled on twice: once in 2015 in the landmark case Obergefell v. Hodges that secured same-sex marriage and in 2017 with Pavan v. Smith that ruled that same-sex couples "have the same right to be named on their children's birth certificates." Queer parents have once again had their rights to be on their child's birth certificate secured in Indiana!
December 24, 2020
☀️ "This is a Son (Sun)" ☀️
We all already know that queer kids are some of the most creative people on the planet (again, I must say, have you been on TikTok lately??). Last week, writer Amanda Mancino-Williams' son told her he was trans in seriously the most creative way possible: an illustrated note, complete with puns. My personal favorite is the "differences between me and the sun" page, where he says he "is a boy, does have a gender" and the sun is "not a boy, the sun doesn't have a gender." Amanda's reaction is one all queer kids deserve: "This is a fantastic gift for all of us. And, he wanted me to share to inspire others to be themselves." Welcome to the family, you incredibly funny & creative artist!
Huge Progress in Switzerland!
In global news, Switzerland approves two historic bills, one establishing marriage equality, and the other making name and gender marker changes easier for intersex and trans people. The Advocate reported that marriage equality passed "by large margins." The journey towards progress has been a long one since this legislation has been "under debate since 2013." We are so excited for the queer community in Switzerland to be able to enjoy these rights!
What is Representation Matters, Alex?
There is something about Jeopardy that deeply resonates with the queer community. Maybe because it's a space where everyone was encouraged to be intelligent without the constraints of gender roles, or tender moments spent with older family members. As reported by LGBTQ Nation, there has been a fair share of queer contestants on the show: Cody Lawrence wore a bi flag pin on their episode, John Presloid mentioned his husband during a Daily Double, and who can forget Twitter Gay Sam Corb's memorable Real Housewives answer. One of the most recent champions is Kate Freeman, making her the first out trans player to win. (As reported by Today, there have been other trans champions who have come out after their runs on Jeopardy).
December 15, 2020
"My Soul Returns to My Body"
To Mara Gomez, soccer (football) isn't only a sport. It is a "style of life," a "therapy." Last week, she became the first trans woman to play soccer professionally in Argentina. After the game, in which her team Villa San Carlos won, Mara posted that her journey "wasn't magic, it wasn't a gift, it wasn't easy. There was a life of fighting, suffering and sadness. There was a life on the edge of death and a broken heart. Many obstacles had to be overcome to revert the past….This has only just begun. Today I breathe, today my soul returns to my body." That last sentence so beautifully captures the feeling of being able to live authentically.
Letting Go of "Him"
If you've been following this blog for a while, you know there are certain things I just adore: queer weddings, TikToks, and personal essays exploring identity. So often, these essays explain an idea about sexuality and gender that has so long been elusive. This week, I haven't been able to stop thinking about Deni Todorovic's essay about their reluctance to change their pronouns. As always, please go read the entire piece. One quote to entice you: "Letting go of 'him' meant giving in to a lifelong fear of not measuring up to society's expectations of what a man should be. Non-binary people can have all those things – marriage, becoming a parent – without gender stereotypes attached."
Japan in Full Color
When it comes to queer culture around the world, I can't learn enough. Whether it's Out and Around or All in the Family, I'm hungry to know more about what unites and differentiates queer people and culture. The new documentary Queer Japan explores the diversity of the queer experience all over the country. Hyperallergic's review says "it's a celebration of everything unapologetically hen — Japanese for strange, peculiar, eccentric, queer." From drag bars to gay clubs to manga series, Queer Japan is a beautiful look at a vibrant queer culture.
December 2, 2020
Welcome, Elliot!
In an incredibly heartfelt and beautiful message, Elliot Page, star of Juno and The Umbrella Academy, has come out as trans. Whenever a celebrity —especially one who is so iconic in the queer community — comes out, it shows other people that they are not alone. That they deserve love, respect, and community. In his post, Elliot wrote "I love that I am trans. And I love that I am queer. And the more I hold myself close and fully embrace who I am, the more I dream, the more my heart grows, and the more I thrive."
Elliot, your genuine and courageous journey has meant so much to the queer community. Thank you for always choosing truth. Only love for you, one of our brightest stars.
Love in Photographs
As if you needed another reason to cry (let's be honest in 2020, crying is always on the table), Hugh Nini and Neal Treadwell have released a book cataloguing thousands of photos of men in love. In a video with BBC Reel, the couple shared their story of finding their first antique photo from a century ago. "There is an unmistakable look that two people have when they're in love with each other…But at the end of the day, it always goes back to the look of the two people and you just want to know what that story was." These photographs, dating as far back as 1845, share the stories of men in love in a time where it was incredibly dangerous for them to do so.
Polar Pride!
While most of the world celebrated Pride in June, scientists in the Arctic and Antartica waited to celebrate #PolarPride on November 18 to coincide with the 200th-anniversary celebrating Antartica's "discovery." As reported by them., the event intended to raise awareness of queer scientists working at the poles and "shift the focus away from the mythos of the conquering whit man 'discovering' new territories and make room for a new, more diverse understanding of who Polar researchers really are."
November 19, 2020
"Welcome to the Family"
There are a million reasons to be grateful for streaming services. Of course, I'm grateful to not have Jeopardy interrupted every twelve minutes, but I'm even more grateful to not see ads because I can't stop crying at the queer ones. But, since I forgot that YouTube has endless ads, I ended up seeing Etsy's newest holiday ad and, well, the waterworks started. Their new ad features a Black gay couple celebrating the holidays together for the first time. One of them is visibly anxious, until he is gifted the sweetest ornament featuring him and his boyfriend. "We didn't forget about you. Welcome to the family." CUE. THE. TEARS! them. compiled a wonderful list of responses to the commercial, with many Black gay men saying this is the first time they've seen themselves reflected so positively.
BelgiumX
Beligum is the latest country to include "X" as a gender identifier for its citizens. As reported by Brussels Times, Federal Justice Minister Vincent Van Quickenborne said the changes were "an ethically sensible issue." This change is part of a series of laws being made less "restrictive and discriminatory." There is an emphasis on laws taking into account a "person's right to self-determination," which includes gender. Very excited for nonbinary folks in Belgium!
Makeup to Enhance You
Ah, the beauty community on YouTube. Just those words alone remind me of….way too many "scandals." Outside of those, in a perfect bubble by herself, is NikkieTutorials. Her makeup is always flawless and she has the most charming and bubbly persona. After coming out as trans in January, she has been a non-stop advocate for the trans community and trans visibility. For Trans Awareness Week, Nikkie released a new video called "Feminizing Makeup Hacks," after receiving many requests for tips. At the beginning of the video, in typical perfect Nikkie fashion, she said this video is for "anybody out there to find new techniques to alter your look, because at the end of the day, that's what makeup is for." Makeup is here to "make us feel powerful, strong, and confident." Her video is a powerful reminder of the importance of self-love and confidence, and how makeup is a tool to help achieve that, not the end goal.
November 12, 2020
Marriage Equality in Nevada
Election week in the United States brought on another Rainbow Wave of LGBTQ+ politicians elected into office, a new President-elect, and a huge new change to Nevada's state constitution. Voters in Nevada repealed a 2002 amendment stating that marriage was between one man and one woman. As reported by The Advocate, the new language reads "Marriage would be defined as between couples, regardless of gender, though religious organizations and clergypersons would have the right to refuse to solemnize a marriage." While marriage equality is protected on the federal level since 2015, this amendment in Nevada is the first is guarantee the right to all people in the state.
A Historic Speech
When President-elect Joe Biden took the stage on Saturday, November 8th, the moment enough was significant for many LGBTQ+ people. Then, within the first 15 minutes of his speech, Biden directly thanks his "gay, straight, and transgender supporters." That one word, transgender, has never been mentioned by a President or President-elect in official remarks, reports LGBTQ Nation. President Obama was the first to mention gay people in his victory speech in 2008. This inclusion signaled to a lot of trans people that they are at the forefront of the President-elect's mind. In an interview with Reuters, Imara Jones of TransLash Media said "once you hear a president talk about certain things it is a signal to the government as a whole that those things are important."
Representation and Love in Space
A few weeks ago, we covered the announcement that "Star Trek: Discovery" added two trans actors to their cast, the first in the entire franchise. Well, the episode just aired and I couldn't even imagine how special it could be. The writers turned to Blu del Barrio and Ian Alexander to make sure their characters' storylines were accurate to the trans experience. Variety wrote an absolutely brilliant article covering the episode, the importance of this representation, and how monumental this casting was for the actors. In that article, Ian said "It brings me so much joy to be able to have such a nuanced, strong and confident, and self-assured character. For all the trans teens out there to finally see themselves represented in a franchise is amazing. That's going to really, really help so many people."
November 5, 2020
Let's hear it for another Rainbow Wave. On election night 2020, LGBTQ+ political candidates were on the ballots in nearly every state, and as of Wednesday, November 4, more 160 of them have been elected into office. This week, our blog is dedicated to celebrating these LGBTQ+ candidates. As results continue to come in, we will be updating our list here.
Some of the biggest wins on election night:
Sarah McBride (Delaware), the first out trans state senator
Ritchie Torres (New York, US Representative), the first out gay Afro-Latino member of Congress
Mondaire Jones (New York, US Representative), the first out Black gay man in Congress
Mauree Turner (Oklahoma), the first nonbinary state lawmaker
Michele Rayner (Florida), the first Black queer woman elected to any level of state legislature
Also, in case you missed the best headline of all time, you need to read about Charmaine McGuffey's epic win in Ohio. As LGBTQ+ Nation reported: "The sheriff fired her because she's a lesbian so she ran against him. She'll be the new sheriff now." Iconic.
October 29, 2020
Transition with Support
Finally, some good news this week! As reported by the Los Angeles Blade, a new policy in Puerto Rico's Medicaid program will cover transition health care. The policy originally passed in July, but wasn't announced until this week to make sure everything was in place for those who would be using the available services. Johanna Velez, president of the LGBTT Advisory Board, said that "today we move towards a Puerto Rico for todes (everyone), a Puerto Rico with greater access to health (care), a fairer, more inclusive and diverse Puerto Rico."
"The Purpose of Power"
Alicia Garza, co-founder of Black Lives Matter, queer activist, and my personal hero, is releasing a book. The Purpose of Power: How We Come Together When We Fall Apart will follow Alicia's life as an activist and organizer, lessons from building the Black Lives Matter movement, and how social media functions in social justice movements. In an interview with NPR, Alicia said that "change is not supposed to be easy, but change fundamentally is supposed to inspire you to keep going. And knowing that the failures that we will inevitably have can ultimately lead towards victories if we just stay committed."
A Space to Celebrate
Starting on November 1st, Trans News will be available. The online magazine is dedicated solely to "celebrating the beauty, witnessing the struggles, and advancing the economic empowerment" of India's trans population. In a country where at least 490,000 people identify as trans, this magazine will be the first to specifically highlight the community. In an interview with them., Padmini Prakash, a trans contributor to the magazine, said the magazine "will bring out all aspects of the lives of [the] transgender community."
October 22, 2020
We Love Your Stupid Love!
Think back to 2012. You're in a mall, cinnamon pretzel in hand. All of a sudden, one person gets on top of the fountain. Okay, weird, but we're in Florida so not that weird. Then "Paparazzi" begins to play. You know what's about to happen.
Thankfully, in 2020, flash mobs involve tasteful weddings, energetic choreography, and a whole lot of love. Brock Dalgleish surprised husband Riley Jay with a full flash mob dancing to Lady Gaga's "Stupid Love." The choreo was on point, the energy was amazing, and the love present was just beautiful. Okay flash mobs, maybe you've made your point.
Queerest Government Ever
New Zealand held its general election is past Saturday and led to landslide victories for Prime Minister Jacinda Arden and LGBTQ+ candidates. As reported by them., 12 out of the 120 seats of New Zealand's Parliament are now held by LGBTQ+ candidates, bringing up the total to 9.6%. This representation could become the influencing factor in getting many LGBTQ+ issues addressed, including Jacinda Arden's commitment to banning conversion therapy in the country. We love to see the Rainbow Wave continue!
"Being Seen" and Being Heard
It's no secret that I adore podcasts. I love the space to explore other people's stories, fresh perspectives, and topics I'm interested in. Especially in quarantine, the comfort of being connected to the outside world through podcasts has been completely necessary. Being Seen is a new 10-episode podcast hosted by Darnell Moore about what it means to be Black and queer. In an interview with The Grio, Darnell said that the podcast "intentionally centers on the lives and contributions of Black gay, queer, bi and trans men. Every episode is an exploration of our complex experiences and the many ways those experiences shape us."
October 15, 2020
A Beautiful Journey
October 11th was National Coming Out Day and my feed was filled with beautiful coming out stories, new realizations, and celebrations by friends and family. Addison Rose Vincent shared their incredible story with HuffPost Personal. In their story, Addison shared their journey from realizing they were gay to coming out as transfeminine nonbinary (not to mention photos so cute I shed a tear). To anyone thinking of coming out or questioning their identity, Addison said "know that you are not alone, that you are more supported than you know, that you are perfect just the way you are, and that your life matters."
❤️🧡💛💚💙💜❤️🧡💛💚💙💜❤️🧡💛💚💙💜❤️🧡💛💚💙💜
They say a picture is worth a thousand words. I'm not sure if the person who originally said that quote had emojis in mind, but hey, what works works. Emojis have become a central part of life on the internet. Because of their ubiquity, there have been calls to update the Unicode to include more diverse representation. Paul Hunt, a queer designer at Adobe, has been pushing and creating that representation. As reported by Forbes, Hunt was integral in including the orange heart emoji to have all six colors of the Gilbert Baker rainbow flag available. Soon, even more gender-inclusive emojis will be released, including the long awaited trans flag. In the interview, Hunt said "for all those who are about to fly your own trans emoji flag, I hope you know that you are seen. I hope you feel that you are supported. I hope you find those who will love you for being courageous enough to live your truth."
Quick & Happy Congratulations!
There really is something about queer couples getting married that breaks my heart open every time. Actors Bex Taylor-Klaus and Alicia Marie Sixtos got married in a surprise ceremony over the weekend and the photos are everything. On one of her posts, Alicia said "Neither one of us ever thought we'd get married. We never planned it. Never dreamed of is as a kid. Not until we met each other did we even have the thought. But once we met, there was no question or doubt that this was it." I am truly crying. All the best to this beautiful couple!
October 7, 2020
A New Leader for Belgium
After 16 months without an official government, Belgium has made headlines with their new deputy prime minister. As reported by PinkNews, Petra De Sutter, in her new position, will be the highest ranking trans politician in Europe. After the announcement, she tweeted that she "is proud that in Belgium and in most of Europe your gender identity does not define you as a person and is a non-issue."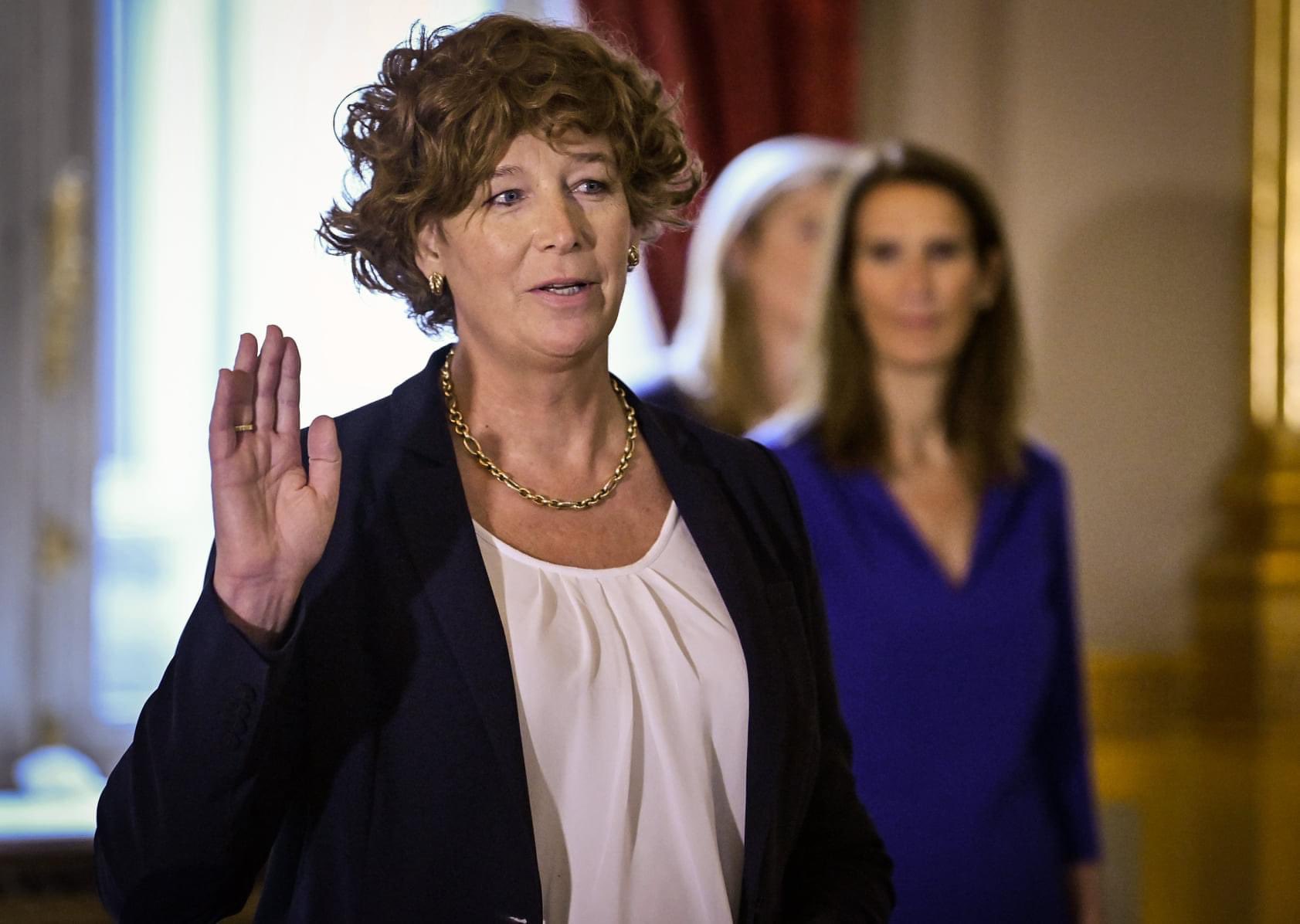 ICYMI: Niecy Nash & Jessica Betts Give Their First Interview After Wedding
You know I love any content that involves queer couples loving and living happily. In August, we talked about Niecy Nash's surprise wedding to singer and songwriter Jessica Betts. I am not exaggerating when I say that news added years to my life (hopefully replacing the years 2020 has taken off). In their first TV interview with Robin Roberts at Good Morning America, the couple shared how they fell in love with each other's souls, what it means to live your authentic life, and whats next for them. Its seven minutes of pure joy.
Instagram Guides: Tips for National Coming Out Day
This National Coming Out Day, we're here to support LGBTQ+ youth wherever they're at on their journey, and we hope you'll help us too. In partnership with Instagram, we've introduced our first Instagram Guides feature filled with tips and actions recommended by us along some of our friends for people who are in the coming out process. So how can you help? Familiarize yourself with the tip so you can be there for support, and share them with a young queer person in your life who could use some support (and some pointers). Coming out is a lot less overwhelming with friends and loved ones there to support you. Check out the guide here!
Upcoming Inspiring Events for National Coming Out Day
This year, National Coming Out Day is going to be celebrated all weekend! Below are a couple of the events we are partnering with.
Friday, October 9th — National #HatNotHate Day
Friday, October 9 is National #HatNotHate Day, an effort to eradicate bullying through "craftivism" – handmade blue hats that will be donated to students nationwide to show their support for the anti-bullying effort. Our Director of Education and Global Programs Justin Tindall will be joining #HatNotHate founder Shira Blumenthal and the Lion Brand Yarn Company for a special discussion on what a world without bullying would look like and how students are working to make that a reality. Watch live Friday at 12pm ET on Facebook.
Sunday, October 11th – OutMusik Fest
Looking for a music festival that highlights LGBTQ+ artists and their allies? OutMusik Fest is the perfect answer. Their main focus is to "stimulate the representation of the LGBTQ+ community in the mainstream media in ways tha tmake new generations feel valued and heard." The online music festival will live on their website throughout Sunday. Also, watch host Georgel's It Gets Better video here. Get the link to watch on Sunday from their website here.
October 1, 2020
Love Is In The Virtual Air
When it comes to love, not even a pandemic can stop queer people from finding each other and celebrating.
Chaya Milchtein and her wife Jodyann Morgan are deeply in love and, like many couples, planned on marrying before everything shut down. In a beautiful essay on Huffington Post, Chaya said their "desire and need to be married increased" as the pandemic went on. They ditched plans for a big wedding and sent out digital invites to the "Biggest, Queerest Wedding of the Year." Thousands — TEN THOUSAND in fact — tuned in to watch Chaya and Jodyann get married. Chaya said "our wedding brought people from all over the globe together for a moment of joy and peace, a brief reprieve from the tumultuous world outside. It was exactly what we needed, and though different from the dreams I once dreamed, it was truly a dream come true."
More love to report! Queer couples across Twitter have been sharing their epic love stories, all from simple DM's or replies to tweets. Started by Jessie, the stories follow the "how it started/how it ended" format. From "hey there 👋" to proposals, Pride compiled some of the most beautiful love stories started on Twitter.
Yes, I Would Wear Those
At risk of dating myself, I remember excitedly coming home from Hot Topic with my newest treasure: massive guitar earrings. I don't play the guitar or have a single musical bone in my body. I was drawn to these huge, random, flashy earrings that I knew would look awesome. Since then, my earring collection has become large, sparkly, and random. It wasn't until I came across #lesbianearrings on TikTok did I realize that my preference had a huge queer history. In an interview with them., TikToker Jordan Ingersoll said that these earrings are "about being comfortable expressing femininity in a queer-coded way, instead of what you'd think of as 'traditional femininity.'" Of course, there is no one way to be or present as queer. These earrings are fun, and often creative ways of playing with expression!
A Batwoman on the
If you're like me, you've been patiently waiting for a glimpse of Javicia Leslie in her new role as "Batwoman." Well, that time has finally arrived! Javicia posted a sneak peak photograph on her Instagram (below) as the iconic role. As reported by NewNowNext, Javicia said "I am extremely proud to be the first Black actress to play the iconic role of Batwoman on television, and as a bisexual woman, I am honored to join this groundbreaking show which has been such a trailblazer for the LGBTQ+ community."
September 24, 2020
10 Proud Years Better
This week is monumental for us at the It Gets Better Project. Monday, September 21st marked the 10 year anniversary of the first It Gets Better video. What started as a single video sparked a viral global movement that is still empowering LGBTQ+ youth. This last decade has meant connecting more queer kids to each other, sharing stories from our beautiful community, and creating a huge collection dedicated to showing that it gets better. Those three words have such a strong hold because of hope, of promise. As Jenn Richards said, "even when it gets worse…you get stronger."
For our anniversary, there have been a few incredible pieces covering our last decade. To read these pieces from People, Forbes, NBC Out and more, click here.
A Hero for the LGBTQ+ Community
Growing up, my knowledge of the Supreme Court boiled down to one simple fact: Justice Ruth Bader Ginsburg was on the Court. In elementary, she was everything I needed to know about the judicial system. The small, fierce, Jewish woman was a leader I clung to desperately. Her presence and voice has secured me rights as a queer woman that I will always be grateful for. She was a leader, an icon, in the truest of senses.
Seth Levy, the Chairman of the It Gets Better Project's Board of Directors wrote a moving tribute to Justice Ginsburg and her never-ending fight for LGBTQ+ rights. Read his piece here.
September 17, 2020
Massive Step Forward in English Schools
If we're being honest, there is nowhere else I would rather live than that adorable town in Sex Education. I have no idea if it's a real place, where teens are incredibly well dressed, you can bike everywhere, and inclusive sex education is the norm. However, it might exist pretty soon now a law passed mandating that high schools in England teach LGBTQ+-inclusive sex education. The new guidelines aim to inform all students on gender identity and sexual orientation so that they "understand the importance of equality." As reported by NBC News, the curriculum aims to "teach young people to understand human sexuality and to respect themselves and others."
Sweetest Thing You'll See All Day
Bet you thought I was off TikTok. HA! After spending endless hours watching "meteor meatier" (if you haven't seen it, please please do), I came across my new favorite TikTok. In it, this incredibly sweet woman talks to her granddaughter about her latest realization: she wants to be with women. She says, "if I ever got involved with anyone, it wouldn't be a man. It would be a woman." The whole interaction is endlessly sweet and shows it's never too late to be who you are.
Protections in Place
Friday marked a huge win in the US federal courts. Helen Thornton, who was in a 27-year relationship with Marge Brown, sued after she was denied survivor's benefits from Social Security after Marge passed away in 2006. She was denied because they were unmarried, even though same-sex marriage was illegal when they were together. Federal courts ruled that this denial was unconstitutional, as reported by The Advocate. Lambda Legal lawyer Peter Rann gave a statement that "today, one more legacy of discriminatory marriage bans has been struck down and surviving same-sex partners will no longer be robbed of their earned benefits."
September 9, 2020
✨ Space is Queer ✨
When it comes to the great Trek vs Wars divide, my mom made sure to firmly plant me in the Star Trek camp. Some huge news this week only reinforced my love for the series. Gay Nation just reported that in the latest season of Star Trek: Discovery will introduce the first nonbinary and trans character of the franchise. Ian Alexander from Netflix's The OA will play Gray, and Blu del Barrio will play Adira. We're so excited to watch these actors crush it on screen!
"The Only Way We Can Change"
The news out of Poland has been nothing short of heartbreaking. But our community knows how to come together when we're needed most. In response to anti-LGBTQ+ laws in Poland, thousands of protestors held joint protests in the border towns of Slubice, Poland and Frankfurt an der Oder, Germany, as reported by Pink News. German protesters held signs expressing pride and love for their Polish neighbors. Mewa Topolska, a teacher and organizer of the march in Slubice, said "the only way we can change people's opinions is through visibility. Moments like these, when our community joins together for the rights of all, fills my heart with joy.
An Iconic First Season (*spoilers below*)
We've established that I'm not an avid Drag Race viewer, no matter how hard my friends try. However, Canada's Drag Race might change my mind (if you don't remember our highlight of Mina Gerges, scroll down to August 6th). Season one just ended and crowned Priyanka as the winner. Canada's first drag superstar attended her coronation decked out in traditional Indo-Guyanese clothes. She is the first winner of Indian descent in the entire Drag Race global franchise. In an interview with Entertainment Weekly, she said "Growing up, there weren't a lot of people like me on TV. It's kind of interesting now to be Canada's first drag superstar, because now someone who looks like me can be like, "Oh, I guess I can do that too!" We're normalizing people of color winning things. Shea Couleé. Jaida Essence Hall. That's normal!
Canada's Drag Race had another star grace our screens: Ilona Verley. As always, them. has an excellent piece highlighting the show's first Indigenous Two-Spirit queen, Ilona Verley. Her looks are all pastel, monochromatic, and unbelievably gorgeous. Ilona is using her platform to educate others about what being Two-Spirit means, along with getting in touch with her own cultural practices. She said that competing on Drag Race has allowed her "to fully accept her identity as a proud, Indigenous trans woman."
(Left: the new queen, Priyanka. Right: pastel goddess, Ilona Verley)
September 3, 2020
#PlotTwist
You all knew there was no way I wasn't going to start this without talking about Niecy Nash. The multi-talented actress has long been an icon for the queer community (Reno 911 and Claws, anyone?). Well, she shocked the world this week with a single Instagram post about her wedding. Her surprise wedding announcing a relationship no one even speculated about. Nicey married musician Jessica Betts and people (including me) are overwhelmed with emotions. NewNowNext compiled a few reactions, but one of my favorites is from Solomon Georgio: "Nicey Nash being gay married is the last thing I ever expected and the first thing I wanted to know."
Protesting for Justice
Tens of thousands of protestors gathered at the Lincoln Memorial in Washington D.C. on August 28th on the 57th anniversary of the March on Washington. This march, The Commitment March, called to end systemic racism and police brutality. LGBTQ+ actvists joined the march in solidarity and to highlight the injustices carried out against Black LGBTQ+ people, especially Black trans women. As reported by the Los Angeles Blade, founder of the Black Trans Liberation Qween Jean said, "trans people, trans women, Black trans people can exist in any space. We are divinely made and created so yes, we will be seen. I will make sure that my generation and the next generation do not need to feel small, they do not need to be silent, they do not have to dim their light so others can shine." Despite how difficult this year has been, these monumental displays of strength and solidarity fill my heart with joy. Together, we will be able to create the world we want to live in.
Gavin Grimm's Legacy
If you've been following the battle for bathroom rights for trans people in the United States, you know about Gavin Grimm. Since 2015, when he was a sophomore in high school, Gavin has been in and out of courts fighting to make bathrooms accessible for all trans kids. As reported by Out, Gavin won another major victory when a federal court of appeals upheld a previous decision that the discrimination he faced using a boys bathroom was unconstitutional. Gavin said that "all transgender students should have what I was denied: the opportunity to be seen for who we are by our schools and our government." We are overjoyed for the Gavin and all of the trans youth who will be positively impacted by this legal standing.
August 27, 2020
Permanent Reminder
In June, we talked about the monumental "All Black Lives Matter" march in Hollywood, California. Tens of thousands of people marched to protest the murders of two Black trans women: Riah Milton and Dominique "Rem'Mie" Fells. As reported by PinkNews, the blocks-long mural along Hollywood Boulevard will now be a permanent installations. Gerald Garth and Brandon Anthony, board members of the Black LGBTQ+ Activists for Change, said they hope the permanent installation "becomes a symbol not just to the city, but to the world."
Come "Draw With Me"
An upcoming short film about a trans kid's journey to acceptance is generating a lot of buzz because of a very high-profile advocate: Jennifer Lopez. In an Instagram post, Jennifer shared a clip from Draw With Me, the story of her nibling Brendon's journey and expression through art. The post was shared to her 130 million followers and introduced a lot of them to the experiences trans kids go through to having their families, and schools accept them. It also introduced an awesome gender-neutral term for niece or nephew, nibling, to an audience who may not have heard of the term. In her post, Jennifer said the film is "about accepting change and challenges with love and knowing that when we do, anything's possible."
We Always Knew There Were Queer Ones, Too
Ah, fairytales. Whether you enjoy them for the morals, the drama, or the beautiful outfits, we all know a good story when we hear one. So why does it seem like all the fairytales out there are straight? Illustrator and writer Pete Jordi Wood wondered the same thing. His research led him to discover the 19th century story called "The Dog and the Sailor." As reported by Forbes, Pete said when he read the story to his queer friends, they all got "goosebumps." The story is "weird," and "unbelievably and fabulously gay." After rediscovering and reconstructing the story from Danish, German, Frisian, Pete made the story available to everyone. Queer fairytales are out there. We all deserve our happy endings.
August 20, 2020
🎶 I Want The World To Know 🎶
I'm a sucker for a good coming out story, and Shivani Dave just took the cake. As reported by GayTimes, the BBC radio Wilshire presenter started the show by playing "I'm Coming Out" by Dianna Ross (iconic move), and talking about what coming out means for the LGBTQ+ community. Shivani came out as nonbinary and gave an excellent lesson on what the identity means. They said "Non-binary actually means a lot of different things to different people. For me, it just means I don't identify with being a man or woman. I'm sort of outside those two options – I'm just a person." Shivani dedicated their public coming out to "show other non-binary people that they should be proud to embrace who they are."
Shedding Light on the Queer Women of the Suffrage Movement
August 18th, 2020 marked the 100th anniversary of the passage of the United State's 19th Amendment, which made it legal for women to vote. However, other laws that made it illegal for non-white women to vote were not removed until fifty years later with the passage of the Voting Rights Act of 1965. Celebrating the milestone, the New York Times published a piece highlighting the power of queer women in the suffrage movement. Many of the vocal advocates for women's right to vote were in queer relationships, such as prominent leaders Molly Dewson and Polly Porter. The right to vote was an extension of their desire to live life according to their terms. These women boldly lived outside of the boxes that were created for them, while fighting for the rights of all women.
Into the Spirit World: Queer Characters in Animation
Animated TV shows straddle the line between children's and adult enjoyment. They're often places where both audiences can enjoy the rich storytelling, gorgeous art, and bold characters. In the last few months, Netflix has released two of the most beloved animated series: Avatar: The Last Airbender and Legend of Korra. Since ATLA first aired in 2005, the show solidified its place in history as one of the most perfect pieces of storytelling (I'll fight for this). The long-awaited sequel came with Legend of Korra, which ended in 2014. Since becoming available, fans have relived the undeniable power in the last scene of the show, where the lead characters Korra and Asami hold hands and look lovingly into each others eyes. In the last six years, representation of queer characters in animation has exploded. We have Steven Universe, She-Ra and the Princesses of Power, and now The Owl House, where queer characters are front and center from the beginning. These are often shows young kids watch, sometimes with families. The importance of being able to see yourself represented at such a young age is incomparable. Seeing Korra and Asami hold hands when I was 19 broke me open, gave me hope for myself and my future. I saw everything when I saw them together. As Zosha Millman wrote for their incredible piece in Vulture, "Legend of Korra walked so queer characters on kids TV could kiss."
August 13, 2020
"High School is Hard Enough"
In an unprecedented ruling, the US Court of Appeals for the 11th Circuit (which serves districts in Alabama, Florida, and Georgia) ruled that all trans students need to have equal access to restrooms that match their gender. This case was the first in the country to involve a trans student's equal access to bathrooms. In an interview with Lambda Legal, the plaintiff Drew Adams said "I am very happy to see justice prevail, after spending almost my entire high school career fighting for equal treatment." In an argument for equal access, Drew also said, "high school is hard enough without having your school separate you from your peers and mark you as inferior." While this ruling only legally applies to the schools in the 11th Circuit, the ruling can be cited as precedent for any other schools trying to implement the same policy.
"Dreams Really Do Come True"
We all knew I couldn't stay away from TikTok. My "for you page" has been a rotation of Avatar: The Last Airbender content, art, and endlessly cute queer couples. One of those couples is college sweethearts and parents Terrell and Jarius. Good Morning America just covered the couple's journey from couple-hood to homeowners to parents to one million followers on TikTok. After falling in love in college, they were eager to start their life together. In 2016, just a year after graduating, they bought a house and tried to expand their family. When one surrogate struggled to become pregnant, they began trying with another surrogate. Shockingly, both surrogates became pregnant and Terell and Jarius' children were born weeks apart. The couple is sharing their lives in hopes to show the diversity and joy in same-sex parenting. I can't wait to celebrate this beautiful family for years to come!
Dignity for All
Trans people who are incarcerated face some of the highest rates of mistreatment. After the settlement of a discrimination lawsuit in Steuben County in New York, new prison policies are being implemented to protect the lives and dignity of trans, nonbinary, gender nonconforming, and intersex incarcerated people. As reported by NBC News new policy would add protections around clothing, grooming items, preferred names, housing, and healthcare. David Brown, the legal director of the Transgender Legal and Education Fund, said that the policy is "workable, and we know it can be applied in every county in the state."
August 6, 2020
Body & Beauty with Mina Gerges
While I have a shameful lack of knowledge about RuPaul's Drag Race, I thought I knew what was going on. One thing no one told me about was the Pit Crew. Honestly, I'm a little glad my first introduction to this tradition was through Mina Gerges on Canada's Drag Race. As reported by Out, Mina Gerges is bringing body diversity to the Pit Crew. While he didn't know he would be the first and only plus-sized member of the Pit Crew, he said he "knew I needed to be there so that the young gay kids watching the show can see a bigger body and stretch marks and learn to be kinder to themselves." Mina, who is a model and an activist, grew up in Egypt, where it is illegal to be any part of the LGBTQ+ acronym. In an interview with Out, Mina said that they are " a proud gay gender-fluid person, and everything I do in my work today is to reclaim my culture and my heritage from the homophobia and bigotry that's engrained in it."
"My Beautiful, Healthy, Unique, Non-binary, Intersex Body"
This week marked a huge step forward for intersex people. One of the United States' most prestigious hospitals, Lurie Children's Hospital in Chicago, just issued a public apology to the intersex people harmed due to unnecessary treatments, reported by Teen Vogue. After tireless activism by the Intersex Justice Project, the hospital also vowed to stop performing intersex surgeries on children unable to consent, unless medically necessary. Intersex surgery has a long and painful history where doctors perform surgery on infants and children to make their genitalia match the doctor's interpretation of their sex. Activist Pidgeon Pagonis, a co-founder of the Intersex Justice Project, is celebrating this win for the "autonomy of future intersex children and patients."
Royal Calls for Change
The world has been reckoning with the dangers of conversion therapy for decades. The practice is illegal in only five countries around the world and only twenty states in the United States. As reported by Forbes, one of the latest voices to join the fight against conversion therapy is the world's first openly gay prince: Prince Manvendra Singh Gohil of Gujarat, India. A survivor of conversion therapy himself, the prince is calling for conversion therapy to be illegal in India and across the world.
July 30, 2020
Landmark Decision in Mexico City
Mexico's capital, Mexico City, just made history with its decision this week to ban conversion therapy. Mexico City is the first jurisdiction to ban the incredibly damaging practice, as reported by them. This move follows many others in North America and around the world to ban conversion therapy.
"Their Children Have a Future"
The security and comfort that an incredible educator can offer a struggling student are indescribable. In my life, teachers were the ones who showed me what positive and diverse queer experiences look like. Students in Oak Park, Michigan are so lucky to have Owen Bondono, a queer and trans ninth-grade language arts teacher. His dedication to making his students succeed is evident in all of his work. Owen was recently named Michigan Teacher of the Year. As reported by the Advocate, he said, "I want educators to see that it's urgently necessary that we support these students. I want students to see that they are supported and loved and that their future is possible. I want parents of LGBTQ students to see that their children have a future."
"Compassion is Worth More"
When Edafe Okporo fled Nigeria and came to the United States as a refugee in 2016, he focused on one thing: survival. As a gay man and LGBTQ+ activist, he faced homophobia from peers and Nigeria's government. As he applied for asylum in the US, he was detained and almost deported. Since he arrived, Edafe has been working as an artist. As reported by NBC News, Edafe persuaded the RDJ Refugee Shelter to transform into a full-time shelter for asylum-seekers. The shelter provides beds, clean bathrooms, food, and additional resources for people who were in the same position as Edafe. In addition to his monumental work, Edafe spoke to NBC News about his personal life. When discussing being publicly affectionate with his boyfriend, Edafe said, "I have wanted to be open about my sexuality all my life. There is no way I'm going to hide it."
July 23, 2020
Love & Marriage in Ireland
The road to marriage equality across the world has been long and fraught. In 2019, Northern Ireland legalized same-sex marriage, and couples began holding ceremonies in February of 2020. However, a small hiccup in the law legalized only secular marriages; religious ones could be held but would not be legally binding. Last week, legislators put forth a plan to allow same-sex religious marriages, as reported by them. Starting in September, all queer couples, religious or secular, in Northern Ireland will have the right to marry.
ICYMI: Ketchum's West Virginia Win
Last month, West Virginia voters made history by electing Rosemary Ketchum to the Wheeling City Council. She is the first trans woman to be elected into any public office in West Virginia. Her election is part of the "Rainbow Wave": since 2018, there has been a massive surge in electing LGBTQ+ candidates into office. In an interview with the West Virginia Gazette, Rosemary said she "secretly maybe wanted to run for office" but felt like she ""I wasn't even sure I had the permission to do something like that." In a sentiment that is shared with LGBTQ+ people across the world, she said "It's going to take a long time to heal those wounds. But this past election is the first healing of a lot of trauma."
The Best Gender Reveal
Gender reveal parties have become wildly popular and equally polarizing. Love Gwaltney posted a series of photos on Facebook with the expected setup: pink and blue balloons, a cake with matching sprinkles, and a pregnant couple happily smiling. The couple opens a box to reveal yellow, purple, and black balloons (the colors of the nonbinary flag), and their son, Grey. In the post, Love writes "We wanted to announce that we got it wrong 17 years ago when we told the world we were having a little girl. So, we'd like to introduce you to our SON: Grey." Trans kids and adults have been messaging Love. To them, she writes "I hate that so many of you in the trans community were not given the love and acceptance you all deserve. I see you. I hear you. I am your new mom now!" This is exactly the uplifting, and affirming news we need this week!
July 16, 2020
Live with Leonie Dorado
Bolivia's news program Aby Ayala TV just welcomed their new cohost, Leonie Dorado. She is the first trans news anchor in Bolivian history and she plans to use her new platform to "educate Bolivia on LGBTQ+ issues, using her own trans experience as a catalyst." As reported by the Advocate, Leonie said that "The LGBT community is a group of millions of people who demand human rights, labor rights, rights to have their lives respected. That is what has moved me to be part of this project."
Trans Lifeline Spanish Expansion
Trans Lifeline has been a cornerstone resource for trans people since its inception six years ago. As reported by NBC News, the organization noticed an increase in calls from Spanish-speaking trans people, particularly trans immigrants. This week, the organization launched its Spanish language hotline. When callers reach out to the Trans Lifeline, they have the option of speaking to someone in Spanish or English. The organization is also partnering with others who are able to provide more resources regarding immigration and legal questions. This expansion is a huge move forward in helping all members of the trans community.
Rest in Power, Naya
It's hard to truly articulate what Naya Rivera and her performance as Santana Lopez on Glee means to me. Glee was that show for many queer kids of my generation, and Santana was that girl. She had a quick wit and a sharp tongue, a voice of gold, and a fire to be known. She was the first time I saw another girl in high school struggling with her sexuality, with being in love with another girl, with coming out to her family. Naya gave a voice, awoke a whole generation of queer girls who never saw themselves on screen. them. compiled a beautiful collection of remembrances of Naya Rivera. Naya, you saved my life and the lives of so many other queer people. We love you, forever. Rest in power.
July 9, 2020
Stonewall Saved
The pandemic has hit small businesses hard, and the iconic Stonewall Inn is no exception. After a police raid on the queer bar in 1969, the resulting uprise marked the beginning of the modern LGBTQ+ rights movement in the United States. As reported by the Washington Blade, the Stonewall Inn was able to receive a massive donation from the Gill Foundation that allowed them to stay open. Co-owners Stacy Lentz and Kurt Kelly said in an interview with the Blade that "as the first and only LGBTQ National Monument, Stonewall is home not only to the history of our community, but also the history of our city and country."
A Lost Painting & A Queer Icon
The discovery of Sappho and her poems were a revelation to a young and confused me. Her poems about loving women were a confirmation that my feelings weren't abnormal. That queerness and loving women went as far back as the seventh century. A watercolor from 1864, titled "Sappho and Erinna in a Garden at Mytilene," will be one of the first queer paintings of two women available to audiences. Created by gay, Jewish artist Simeon Solomon, the piece is only one in a long career of focusing on gender and sexuality. According to curator Dr. Roberto C. Ferrari in an interview with CNN, Solomon's art strived for "the idea of gender and love is supposed to surpass the human limitations of this binary system that exists in our society."
Billboard Celebrating Beauty
Beauty and fashion companies have been promoting a version of beauty that has long excluded much of the world. With their 2020 Pride Campaign, clothing brand Calvin Klein highlighted model and activist Jari Jones on their iconic New York City billboard. In an interview with Bustle, she said that "the fact that somebody like me — a trans woman, a Black woman, a plus-sized woman — is being celebrated at such a high caliber, it brings me back to the people who fought for me to get there. So often, when these accomplishments are made, people are like, 'You did this all by yourself.' No, I'm the result of a whole bunch of communities that have made it possible for me to continue the lineage of activism and representation." We are so excited by this positive step towards inclusion and can't wait for more.
June 25, 2020
From Breakfast to Midnight Snack
Anyone who was of Disney-watching age in the 2000's knows who the incredible Raven-Symoné is. Talented, outspoken, and brave, Raven is an icon to all. After coming out in 2016, she has continued to be a force of joy in the world. She shared her experience in her It Got Better video (watch here!). Well, this weekend, she got married in a backyard celebration to Miranda Pearman-Maday. In an Instagram post announcing the celebration, Raven said "I got married to a woman who understands me from trigger to joy, from breakfast to midnight snack, from stage to home. I love you Mrs. Pearman-Maday!" Congrats, congrats, congrats!
Hair for Change
As my personal icon Phoebe Waller-Bridge has said, "Hair is everything." For trans people, hair is a way do alleviate gender dysphoria and be gendered appropriately by people. We all know quarantine has made it hard to get a haircut, but the lack of them has caused trans people to experience anxiety. That's where the Trans Clippers Project comes in. Founded by Klie Kliebert, the project works with local organizers to provided free hair clippers to trans people who can not afford them and are experiencing dysphoria and misgendering during the pandemic. As Klie said in an interview with them., "It's more than just a haircut."
Acceptance & Fatherhood
For many queer kids, finding acceptance and love from our parents is a long process. For Iv Fischer, her process included a brave post from her father on Facebook. Iv said "what my father did, what my family has done, is awe inspiring." As reported by BET, Brown said "Fatherhood means responsibility. Fatherhood means doing everything necessary to ensure the safety, shelter, food and clothing — all of the nurturing things that your child needs. And it never ends." We hope all queer kids have this love and acceptance in their lives.
June 17, 2020
Protection For All
We couldn't start this blog without highlighting the biggest moment of joy to happen out of the Supreme Court. On Monday, June 15, in a 6-3 ruling, the Supreme Court made it illegal for employers to discriminate because of a person's sexual orientation or gender identity. 21 states already had protections for the LGBTQ+ community in job discrimination. This ruling will protect all LGBTQ+ people across all 50 states. We are so grateful to all of the original plaintiffs whose cases brought about this monumental change: Aimee Stephens, Donald Zarda, and Gerald Bostock.
#ALLBlackLivesMatter
On Sunday, June 14th, thousands of people marched from Hollywood to West Hollywood in California in support of the Black LGBTQ+ community. Known as the All Black Lives Matter march, it was organized to highlight the specific oppression that Black LGBTQ+ people face. This huge and public display of solidarity for and commitment to Black queer and trans people during Pride month made our hearts swell with joy. In an interview with the Los Angeles Times, march participant Kimiko McCarthy said that she wanted to be at the march to "represent both sides of who I am."
"Love is what it will be"
Alyssa Kayhill is an outstanding person: accomplished musician, LGBTQ+ advocate, and cardiology nurse at the Brooklyn Hospital Center. When the pandemic hit her city of New York, Alyssa was transferred to the ICU to work with COVID-19 patients. To keep her girlfriend of almost eight years safe, Alyssa suggested Anhlinh Trinh, move in with Anhlinh's brother in upstate New York. Moved by how much she missed and loved Anhlinh, Alyssa decided to propose during the nightly 7pm clap for nurses. What Anhlinh thought was just a welcome home party immediately turned into a proposal when Alyssa got down on one knee. It was the first time in three months that the couple was able to see each other. As reported by Pink News, inscribed in her engagement ring were the lyrics from a song Alyssa wrote for Anhlinh: "Love is what it will be."
June 11, 2020
A Platform for Good
Indya Moore, the iconic star of Pose, has been using their platform to raise money for trans women of color affected by COVID-19. Since the beginning of the pandemic, they have raised over $20,000 to help trans women of color pay for "food, rent, and gender-affirming care." In an interview with NBC News, Indya said that they "try to use myself as a conduit to connect my fan base to my community." Indya has since used their platform to redirect donations to G.L.I.T.S., an organization aiming to provide housing for Black trans people recently released from Rikers Island in New York City.
#BlackQueerLivesMatter
In a powerful Instagram post, actor Justice Smith comes out as queer, announces his relationship with fellow actor Nicholas Ashe, and writes about the importance of including trans and queer people in the Black Lives Matter movement. In his post, Justice wrote "What should have been given to black, queer, and trans individuals from the beginning. Which is the right to exist. To live and prosper in public."
"Love is the Answer"
Graduates across the world deserve to have their hard work celebrated. On Sunday, June 7th, YouTube hosted a virual commencement celebration named "Dear Class of 2020." Our favorite fashion, acting, and singing icon Billy Porter addressed LGBTQ+ graduates with an emotional speech: "I'm so proud of you all…I'm talking to the allies out there as well. We thank you. As you embark on your lives, know that love is the answer. Leading with that, always, is how we make change in this world, and how we make it for good."
---
June 4, 2020
This week's Moments of Joy has been replaced by Moments of Power, a collection of stories, resources, and education materials geared at uplifting, empowering, and connecting Black LGBTQ+ youth and their allies. The It Gets Better Project will not stop fighting for your right to boldly and safely exist in the world. You are seen. You are heard. You are loved.
---
May 28, 2020
Midnight Ceremonies in Costa Rica
Nothing can stop the power of love. As reported by CNN, at midnight on May 26, 2020, Costa Rica became the first country in Central America and the 29th country in the world to legalize marriage equality. Minutes after, in a socially distant ceremony, Alexandra Quiros and Dunia Araya became the first queer couple to get married in Costa Rica. Many couples decided to celebrate with overnight weddings. President Carlos Alvarado Quesada tweeted, "Today we celebrate liberty, equality and our democratic institutions. May empathy and love be the compass that guide us forward and allow us to move forward and build a country that has room for everyone."
A Family Together
Zoom. We are all familiar with Zoom happy hours, game nights, and movie marathons. Chad and Paul Beanblossom from Tennessee used the platform to adopt their foster son, Michael. Over 80 people joined the virtual ceremony. In an interview with ABC News, Chad said that Michael "just kind of came in and took over our hearts. He's taught us just as much, if not more, than we have him. Our whole world revolves around Michael." The couple had fostered other children before Michael, who asked Chad and Paul to be his fathers. Chad said, "We wanted the same thing that he did," Chad said. "It's really hard to imagine our life without him."
Who Else is in the Mood to Happy Cry?
I've spent a lot of time over the past few months looking up queer love stories (if that is not abundantly obvious by now). This week, NowThis released an incredible video highlighting the 2019 wedding of Parag Mehta and Vaibhav Jain. Parag's father, Dr. Vijay A. Mehta, made a speech that almost made my heart burst from joy. In it, he asks himself a question: do I love my son any less after he came out to me than I did before he came out? The answer is a resounding no, I still love him the same. The rest of the video highlights the incredible way that the couple adapted traditional Jain wedding customs to create a template for other same-sex couples to use. This couple is extraordinary and may their love inspire us all.
---
May 21, 2020
A Prideful Course
School being out of session hasn't stopped the Montgomery County, Maryland public school system from approving a new course on LGBTQ+ history and culture. In the fall, interested 11th and 12th graders will be able to take a course that covers important aspects of queer history and culture, such as different identities and essential moments from history. In an interview with them., social studies specialist Tiferet Ani said, "I think that we need students that identify as LGBTQ to see themselves and to know their identity is celebrated, not just accepted, and to know people like them have helped shape our history and culture." Hopefully, more schools will incorporate initiatives like this one and pass the Fair Education Act in their states!
Backpacks for Hope
Queerness is all about community. And our community loves to give back. Fiancés Jeffery Newman and Jayson Conner co-founded their nonprofit Backpacks for the Street in 2018 to deliver essentials to people experiencing homelessness in New York City. Since COVID-19 hit their city especially hard, the couple has expanded their network of volunteers and are delivering more backpacks filled with supplies than ever. Before the pandemic, they were delivering 30 backpacks a day. Now, they deliver at least a 100 to people in need. "We're very happy to be doing it; it's a labor of love," said Jeffery in an interview with NBC News.
The True Princess of Power (Spoilers Ahead!)
Our queer hearts broke and were rebuilt this week when "She-Ra and the Princesses of Power" concluded with it's fifth season. It's no secret that the show is abundantly queer and endlessly joyful. Show-runner Noelle Stevenson created a world where princesses can marry other princesses, pronouns are always respected, and the power of women is deeply known. In this last season, the couple that everyone has been rooting for finally solidified their love with a kiss. To have Adora and Catra so boldly express their love, the love we all saw for five seasons, in a show for kids is an undeniable step forward. We all deserve to see ourselves reflected because it reinforces what we all know: that we have dignity, that we are all connected to each other, and we are all worthy of sharing our story. While She-Ra may have ended, a new era of queer representation is blossoming right before our eyes.
---
May 14, 2020
Proud Valedictorian
Schools look different now. In a few short weeks, graduations will be happening digitally. All students deserve to have their hard work celebrated, loudly and proudly. One of those students is Syd Sanders, the first out trans valedictorian in Maine. His teachers describe him as "fearless" and "extraordinary." Before attending Harvard University in the fall, Syd has to deliver the valedictorian speech at Belfast Area High school. In a profile by NBC News, Syd said he's planning an "optimistic" speech. His advice to other trans students? "Even if you don't see the light and you're not sure why you're working hard or why you're doing things … just keep going."
Love & Marriage in Taiwan
Nearly a year ago, on May 24, 2019, Taiwan became the first country in Asia to legalize gay marriage. Taiwan's Ministry of the Interior reported that more than 3,500 gay marriages have happened as of the end of March 2020. As reported by Focus Taiwan, there have been 1,122 male couples and 2,431 female couples registered as married in Taiwan. Thinking about those thousands of couples finally able to celebrate their love through marriage makes me very weepy.
A Note on Visibility
Growing up, there was a lesbian couple who lived around the corner from me. They had two little kids who attended the same pre-school I had years earlier, at a community center I still frequented for swim practice. Every time I saw them, I wanted to say something about how much it meant to see two queer women with a family at my local JCC.
Now, in a time where visibility is more important than ever, here is a story from last year. After their county commissioners voted not to fly pride flags from court buildings in their conservative town, Sal Stow and her wife Meghan Stabler decided to fly two rainbow flags at their home. One morning, Sal found the below note tucked under a rock on their front mat. In a post on Facebook, Sal explained that "This is why visibility is SO important. You never know who needs the support and to know it's ok."
I wish I had left a note for the couple on my street to tell them how much it meant to see queer love and family, so proud and so open.
---
May 6, 2020
Black Queer Excellence
The 2020 Pulitzer Prize winners were announced virtually on Monday, May 4th. The prize awards achievements in writing, including journalism, literature, and newspaper. This year, two Black, gay writers were among the 22 recipients. Michael R. Jackson is the first Black writer to win in the drama category for his musical, A Strange Loop, which is an auto-biographical meta-tale following moments of Jackson's own life. Jericho Brown won the award in poetry for his collection of poems, The Tradition. This is a monumental and much-deserved celebration of Black queer voices. For more information, read them.'s article following the wins.
A Very Gaga Graduation
Lady Gaga has been working to keep queer spirits up in the past few months, including curating the One World: Together at Home event. She has one more announcement up her sleeve. No, it isn't that we're less than a month away from the release of her new album Chromatica. As reported by PinkNews, she will be joining Michelle and Barack Obama on June 6th in a virtual commencement address to all the students who will not be able to have a graduation due to the pandemic. Her presence will surely uplift all of the queer students who look up to her for courage and acceptance.
Xanax for Lesbian Quarantine Weddings
As if queer weddings weren't daunting already (watch this SNL sketch if you don't understand), they're somehow more creative in quarantine. One couple decided to postpone their wedding for obvious reasons and included some local charm. As reported by Buzzfeed News, Bri and Lindsey Leaverton turned their wedding into a safe event fit for the big screen. They went to local drive-in theater where they invited guests to pull up and watch them get married on stage. A huge congratulations to the happy couple!
---
April 30, 2020
Don't Rush Queer Joy
Fine, you've got me! At this point, I think it's abundantly evident that I spend hours upon hours on queer TikTok and you know what? I have no regrets. For the past month or so, the #DontRushChallenge has been giving me life. Originally set to "Don't Rush" by Young T and Bugsey, the challenge features people making dramatic glam transformations. It's the perfect opportunity for fabulous drag transformations and joyful couples showing off their incredible style. Them. published an amazing article about the challenge's history and compiled some of the queer highlights.
A Secret Love
If I've learned anything in quarantine, it's that apparently I can cry at the slightest provocation. I learned this lesson the hard way while watching the trailer for the new Netflix documentary, "A Secret Love" (the film was released on the platform yesterday, April 29). The film covers the 65-year relationship of Terry Donahue and Pat Henschel, a lesbian couple who's relationship was not known by their families until recently. Since meeting in 1947, the couple has seen the LGBTQ rights movement evolve from Stonewall to marriage equality and beyond. This film is a testament to the beauty of queer love and the perfect thing to watch this weekend (only if you have an abundance of tissues)!
Adoptions in Finland
Three years ago, Finland passed a law that allowed same-sex couples to legally marry and adopt children. In accordance with Finland's lengthy adoption process, the first adoptions have finally happened. Two same-sex couples have adopted children in the country's capital of Helsinki. As reported by Out, one of the new parents "rejoice in [their] normal baby routine." The country's prime minister, Sanna Marin, who was raised by two mothers, has said that "For me, people have always been equal. It's not a matter of opinion. That's the foundation of everything."
---
April 24, 2020
"So, how did you two meet?"
If you've been following the blog, you know it's no secret we're suckers for a love story (I mean, who isn't?). And it looks like quarantine is speeding along the love stories of some adorable queer couples — like Reed Badman and Aaron Hussey. Before quarantine, they were just two people testing the waters of a new relationship. Then Reed's roommate became exposed and their relationship took on the plot of a fanfic rom-com. Based on Aaron's adorable tweets covering their blossoming romance, it looks like they're both thriving. In an interview with Pride, Reed said — "In a weird way, I'm really happy that this is the way we've started our relationship because we have really been able to get to know each other without distractions. And it'll make for an excellent dinner party story."
Enjoy a Little Warhol This Week
Let's be honest. I've watched almost ten seasons of The Amazing Race, played more hours of Animal Crossing than I wish to admit, and baked my way through a cookbook. It's time for some ~culture~. Luckily, Esquire released an interview with Gregor Muir, the director of Tate's International Collection, walking us through some of the best pieces in the Andy Warhol exhibit. The interview looks at pieces from the collection and offers insights that you would enjoy on a tour of the. Even though museums might be closed, there's no reason we can't enjoy beautiful and powerful art created by a queer icon.
Warning: Hilarity Ensues
To know about Leslie Jordan is to love Leslie Jordan. The comedian, famous for his role in Will & Grace, has been busy creating a collection of hilarious, smile-inducing, and heart-warming videos on his Instagram. From botched exercise classes to Shark Tank ideas, and so much more, Leslie has been filling our days with more moments of joy than we can count. In an interview with Advocate, Leslie shared a hopeful thought on our current situation: "I'm hoping that the whole world, having gone through something like this, is going to come out of all of this kinder."
The Making of a Queer Icon
A loud and musical welcome to the queer community is needed for the one and only Rebecca Black! The pop star came out last week on a friend's podcast when she casually mentioned the gender of the person she had been dating. Since then, she has had an outpouring of support from her fans and the queer community. In an interview with GayTimes, she discussed the joy she's felt since coming out. "Everybody talks about that sense of relief and I had no idea what that would feel like, but they're right, and I'm so happy to be finally able to talk about it." The entire article is a gem detailing her coming out process to herself, the impact her hit "Friday" had on her journey, and the potential of a new album. Welcome to the family, Rebecca!
---
April 16, 2020
Coming Out (ft. Jason Derulo)
Honestly, at this point, we should just rename the blog to "Our Favorite TikToks This Week." If you haven't taken our advice and spent hours on there already, rest assured we'll be posting the queer highlights! Lately, there's been an incredible trend of queer kids coming out to friends using, get ready for it, a snippet from the 2014 hit from Jason Derulo, "Get Ugly." The line in question: "This girl straight and this girl not." As you can guess, the videos show the queer teen singing along to the line, complete with the appropriate gesturing. The reactions truly could not be cuter. Coming out videos have gotten way more creative, and feature more Jason Derulo, over the years! PinkNews put together a compilation of some of the best.
Best Quarantine Dad Award Goes To….
In another edition of Reddit Being The Cutest Place on the Internet, a father reached out on the platform to ask for some advice regarding his son. After being sent home from university, his son asked if a "friend" could come home with him. The father has some compelling cute evidence for why he suspects they are a couple and is now asking Reddit for advice on how to make them know they're accepted in his home. This is only making us happy cry a little.
A Historic Win for LGBTQ+ Virginians
Lately, news from any government agency has not exactly been positive. Here's a nice alternative to that. ABC 13 News reported that on Saturday, April 11th, Virginia Gov. Ralph Northam signed the Virginia Values Act, making Virginia the first state in the South to "enact comprehensive protections for the LGBTQ+ community." The law includes protections against "discrimination in housing, employment, public spaces, and credit applications." A huge step forward to protect the dignity of all queer Virginians.
Queering the Pages
Queer bookstores have a special place in the community; they are hubs for gatherings, knowledge, and comfort. In our new landscape of distance, queer bookstores have reimagined how to create community. Bookstores across North America have shifted their monthly events to virtual ones serving the queer community (virtual dance parties, writing workshops, and drag queen story times top our list!). In an interview with them., Gretchen True, co-owner of Madison, Wisconsin's bookshop A Room of One's Own, said that "As a community, we are resilient, creative, and exceptionally capable of adapting to uncertainty with hope, mutual support, generosity, and dare I say it, joy."
---
April 9, 2020
We're So Grateful
This week, Schitt's Creek ended after six beautiful seasons. The show quickly became the undisputed fan favorite of queer people everywhere because of its unflinching joy and representation of queer people and relationships. As part of the finale, the cast read a letter sent to them from a Facebook group of over 1,800 moms with LGBTQ+ kids. The letter thanked them deeply for all they have done to show and create a happy world for their children. We can't echo their words enough. Dan Levy & the cast of Schitt's Creek: thank you.
Welcome to gayburger y'all
As we've mentioned, TikTok is known for being one of the funniest, queerest, and most joyful places on the internet. If you're looking for hours of hysterical and relatable LGBTQ+ Gen Z content, look no further than @gayburgerofficial. They're a collective of 32 (and growing!) young queer creators making awesome TikToks that are everything we stand for: uplifting, empowering, and connecting queer youth. Now make some tea and just enjoy ✨
A Community, Stronger than Ever
While it can be difficult to still feel community while we are all isolated in our own residences, queer people in England have created "mutual aid" groups focused on serving the LGBTQ+ community. Dogs are walked, groceries are delivered, and queerness is celebrated. DJ Harry Gay talked about the Queer House Party (pictured below), a new online night club. In an interview with Buzzfeed, he shared that "We're a bunch of queers living in an overpriced house-share in south-east London who wanted to put something out there to bring joy during this crisis."
Some Light Reading
Is there anything better than a juicy, entertaining Twitter story? What about a queer one, quarantine edition? Lev Rosen, author of the incredible Jack of Hearts (And Other Parts), released a story following boyfriends who broke up…but are now quarantined together. If you're looking for a quick and touching read, this thread will brighten your week!
---
April 2, 2020
ICYMI: #TransDayOfVisibility
March 31 was Transgender Day of Visibility (TDOV) and even a quarantine couldn't stop the world from celebrating the incredible trans community. Finally, something positive was trending on Twitter! Catch a compilation of some of the most uplifting content on NewNowNext. And make sure to watch our video with musician Benjamin Scheuer, who premiered the music video for "I Am Samantha," inspired by his friend and her transition.
And the Category is: Social Distancing!
We all know that TikTok is the place for hysterical and creative content. (If you ever need to kill an hour just laughing, you need to get on TikTok). Well, get ready for a runway, quarantine style. Queer kids on TikTok have been showing off their best drag looks, inspired by our current qurantine-climate. Buzzfeed compiled a few of the best here.
Tune in for Validation
For many trans and queer kids, being quarantined means being in environments where their identity and pronouns aren't fully respected. In comes The Validation Station, a daily positive text message service for the trans community. In an interview with PinkNews, Jacob Edward hopes the service will remind trans people that "that they are still themselves and their name and pronouns are still theirs!" You are valid and you are loved, always.
Love in a Quarantined Place
*Stefon voice* This story has everything. Gay men. An arranged marriage. A global pandemic. Quarantine. Flirting. A clueless husband. Cuddling on the couch. Will they get together? (Spoiler: they do!) While the story was taken down from Reddit, you can find the whole saga and updates on Twitter. This truly is the queer fanfic of our dreams!
---
March 27, 2020
Sew-Inspiring!
Last week, fashion designer Christian Siriano tweeted that he had a full sewing team on hand ready to make masks to help the shortage in New York City. New York Governor Andrew Cuomo quickly responded: "Thank you." Within a week, Siriano's team has made over 1,000 masks, with more on the way. In an interview with Good Morning America, Siriano said "It was really a simple thing and I just felt like it was a really important time because I felt like it was so needed — not just in New York, but everywhere." He couldn't be more right.
Love (Finally) Won
In Andorra, one of Europe's smallest countries, the road to marriage equality is finally over. While queer couples have been able to enter civil partnerships since 2014, the new law will erase the "separate but equal" distinction from straight marriages. A happy day for the citizens of Andorra!
History Made on the News
This month, history was made in Argentina as the first transgender news anchor, Diana Zurco, debuted on Televisión Pública's prime time evening news program. In an interview with Associated Press, Zurco expressed that her "presence challenges society. It is an invitation to society that says: 'This is me; behind me there are more people like me who want to express themselves.'" Diana Zurco is a beacon for trans people not only in Argentina, but around the world.
A Fairytale Beginning
As more and more people social distance in an effort to flatten the curve, weddings all over the world have been cancelled. Even that couldn't stop Reilly Jennings and Amanda Wheeler from getting married. On an empty New York City Sidewalk, the couple listened to a wedding officiant (carefully leaning out of his window) read them a passage from "Love in the Time of Cholera." In an Instagram post, Jennings said: "I've waited 4 years to call [Amanda Wheeler] my wife." Queer love always finds a way.
We hope these Moments of Joy brought a smile to your face. If you're looking for additional resources, please click here. Join us next week for more positively queer inspiration.
This blog is lovingly written each week by Ariella Assouline (she/hers), resident baker, gamer, and plant mom at the It Gets Better Project.