We bring you monthly updates about the It Gets Better Project and our affiliates around the world. Check out the great news from April 2016 below.
GLOBAL: This month, the It Gets Better Project and our international affiliates joined forces with dozens of organizations and millions of people around the world to commemorate two major moments for LGBT youth. The first was GLSEN's Day of Silence (April 15), a student-led national event to bring attention to anti-LGBT name-calling, bullying, and harassment in schools.
The second was #40toNoneDay (April 27), a national day created by the True Colors Fund to raise public awareness about LGBT youth homelessness. Please join us next year, and every year after that, until we've eliminated these challenges for good.
One way to help bring awareness to the issues mentioned above is by continuing to support the stories of LGBT people in the media. That's why we're so happy to continue partnering with The Real O'Neals, an ABC original show about a young guy's struggles to be out to his Irish Catholic family. Here's Noah (the star of the show) and our interns at a recent screening of the series at The Abbey Food & Bar in West Hollywood.
We also joined forces with the UNICEF U-Report Global team to help recruit the voices of LGBT young people speaking out against bullying. Always remember: even when you're young, your #VoiceMatters.
Not to mention, fans of the Powderpuff Girls almost broke the Internet in April! This time it wasn't by "Saving the World Before Bedtime" but by posting their own P-Girls avatars all over social media. We jumped in on the fun and asked some of our LGBT young followers from around the world to send us their own avatars. How stinkin' adorable are these?!
COLOMBIA: It's official! As of April 28, 2016, marriage equality became the law of the land in Colombia thanks to a 6-3 vote in the Surpreme Court. The decision effectively grants same-sex couples the right to marry, and orders all judges and nortaries to grant such couples with marriage licenses. Congratulations to all our friends at It Gets Better Colombia!
PERU: Who can forget Shakira's 2005 super hit "La Tortura" featuring Alejandro Sanz?! I mean, the song won two Latin Grammy Awards in 2006, was the biggest selling song of the year on Billboard's Hot Latin Songs list, and is Shakira's #6 (and Alejandro's #1) most successful song of all time.
Well, the man with that incredible voice just shared his it gets better message with our friends at It Gets Better Perú (available only in Spanish). We like to think that this is now his greatest hit of all time. What about you?
SWITZERLAND: Meanwhile, Es Wird Besser Schweiz, our affiliate in Switzerland, made it on to the pages of Pride Magazine! If you happen to make it to a Starbucks in Zurich soon, check it out.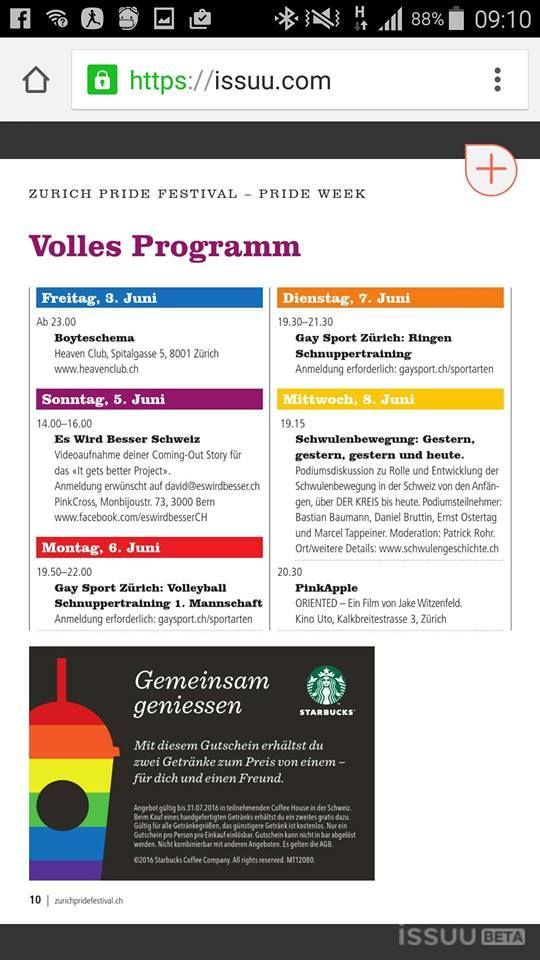 ITALY: And in Italy last week, our friends at Le Cose Cambiano marched alongside Rainbow Families to spread the message that all families are equal. It was a great day for a flashmob, tons of balloons, and endless laughter!
We're extremely proud of our achievements in April 2016. We look forward to bringing you more great news soon!