On #GivingTuesday this year, the It Gets Better Project is proud to announce the launch of the newest addition to our international network of affiliates around the world, It Gets Better Colombia! This will be the 6th permanent affiliate installment in Latin America following the creation of projects in Chile, Paraguay, Mexico, Brazil, and Ecuador. We couldn't be more excited!
The following was written by the folks at It Gets Better Colombia:
Colombia has been slowly making progress in terms of laws that protect the LGBT community and, in turn, the morale of our community is rather high these days. On November 4th, Colombia's LGBT community received some great news: we are now legally able to adopt children! Until now, we were only able to adopt if there was one biological parent, and that law came to pass early this year, so to have the Constitutional Court rule twice in favor of our community in such a short amount of time goes to show how things are evolving in our country's mentality (Coincidentally enough, this was the day we found out that the Board of Director's at the It Gets Better Project had approved our affiliate proposal, so it was a double celebration for us!).
Since 2010 there is a law that obligates [the government] to recognize same-sex couples, if they can prove they have been together for more than two years, but the term utilized for such is Factual Marital Union. Also, Judges and Notaries are free to marry same-sex couples but numerous loopholes in the law make it unclear of what the actual legal status is in both cases. Only until a few months back the Constitutional Court opened up the debate on same-sex marriage to a public hearing and things are looking bright even though a final verdict has not been made and it is not clear when it will be reached. However, the fact that there is a debate going on about it means we are one step closer to achieving legal status as couples.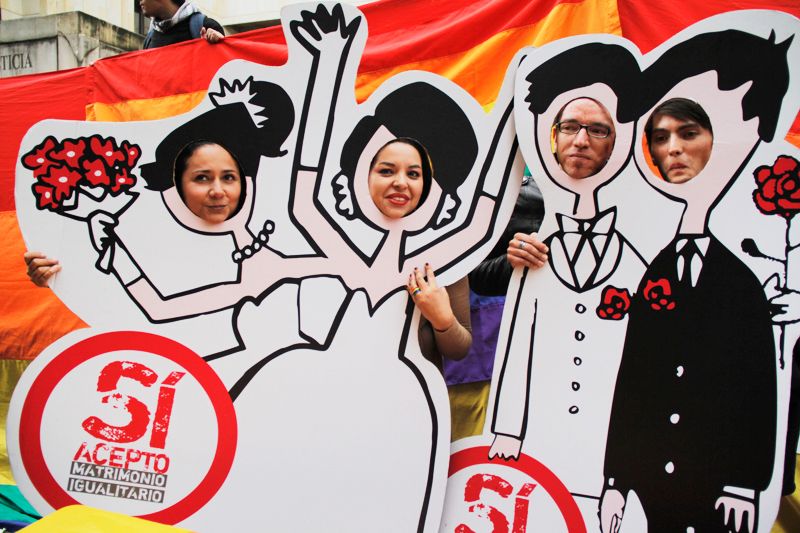 In the year 2006 the Constitutional Court ruled in favor of various sentences so that basic human rights like the rights to life, freedom, education, work and health could be granted to the LGBT community. Again, this was one more fight won.
Nonetheless, none of the above has come easily and without a fight. In Colombia the culture has been permeated by strong Catholic principles that lead a majority of the country's population to an extremely conservative mentality. Even members of the government imprint their religious views onto laws that don't go well with their beliefs in order to oppose them. This hurts the LGBT community in their attempts to legitimize their experience and in the search for equality. Clearly this takes a toll on our LGBT youth, it dismays their hopes for a better and more egalitarian adult life.
Bullying is at its peak in Colombia, and bullying due to homophobia has taken numerous young lives. Some cases have made the news nationwide and it has [opened] up a debate of how this could be prevented. This is why It Gets Better Colombia could not come at a better time in our country's history. We want to take action and be part of that much needed change, and we will! What we are aiming for and will work hard to obtain is to give shape to a social movement that will transform the status quo of our society so that Colombia becomes a reference in Latin American countries for what tolerance, respect, and acceptance to the LGBT community looks like.
You can learn more about It Gets Better Colombia (and what you can do to help) by following us on social media using the links below. And don't forget to 'like' and 'share' our posts!
To find out more about the other international affiliates in Latin America and around the world, go to itgetsbetter.org/international, or email international@itgetsbetter.org if you're interested in donating.