by Justin Tindall
If you've followed LGBT news this past summer, you couldn't avoid hearing buzz about Israel. On June 12 in Tel Aviv – the country's second most populous city and its financial center – well over 150,000 people participated in the annual Pride Parade, a record-breaking number not only for the country but also for the entire Asian continent. This record (which grows substantially from year to year) helps solidify the city's reputation as one of the Gayest Cities in the World, at least according to popular travel providers and agencies around the world.
Then, just a few weeks later and 57 miles inland, the Pride Parade in the city of Jerusalem also captured international attention. Unfortunately it wasn't for record-breaking attendance this time, but for a shocking attack on six participants.
The drastic difference between these two Pride events reflect the complex nature of Israel in general, a situation that stems from the country's literal position at the crux between the Old World and the New, between the cultures of the East and the West, and within differing religions and faiths that offer a wide spectrum of observence and practice.
Oddly enough, I found myself, both physically and figuratively, immersed in that complex environment this summer. I am not Jewish, nor did I previously have any personal connections to Israel. But on June 2, I found myself sitting on a plane heading from Los Angeles to Tel Aviv as one of 25 LGBT leaders visiting the country with A Wider Bridge, an amazing organization that has a mission to connect Israelis and LGBTQ North American leaders and allies.

For the next 10 days, I had the chance to learn and engage with the LGBT community in Israel firsthand alongside other activists from around the world. I shared meals and debates with some of the country's religious leaders, as well as with some of its ordinary LGBT citizens. I glimpsed living examples of Israel's tumultuous past, as well as hints of its controversial yet exhilarating modernity. I was even able to march with newfound friends of all colors and creeds at the record-breaking parade in Tel Aviv.
Before this trip, I didn't know much about Israel or its thriving LGBT community. Here are five things I learned while I was there:
For much of its history, Israel has been outpacing the rest of the Western world in LGBT rights.
Despite the fact that Israel inherited its sodomy (referred to then as "buggery") laws from the British Mandate in 1948, there are no records that indicate the law was ever enforced after that time. By the early 1960s, the Attorney General of Israel confirmed that such laws would never be enforced, a decision followed by an Israeli Supreme Court ruling in 1963 that stated that such laws did not apply to acts between consenting adults in private. But sodomy laws existed formally on the books in Israel thereafter until 1988, when the Knesset (Israel's legislative assembly) decriminalized all consensual same-sex sexual acts for good. It was the first – and still the only – country in the region to do so.
Such a significant decision came just two years after the U.S. Supreme Court chose to uphold sodomy laws, and roughly 15 years before they finally struck them down in Lawrence v. Texas in 2003. But this isn't the only example of Israel outpacing the U.S. – as well as many other European countries – in LGBT rights: Israel prohibited employment discrimination on the basis of sexual orientation in 1992 (something the U.S. Government has yet to do); policies restricting LGB Israelis from serving openly in the military were reversed in 1993 ("Don't ask, don't tell" lasted in the U.S. until 2011); and also in 1993, unregistered cohabitation was legalized for the first time in Israel, and the country's first Pride Parade was held in Tel Aviv.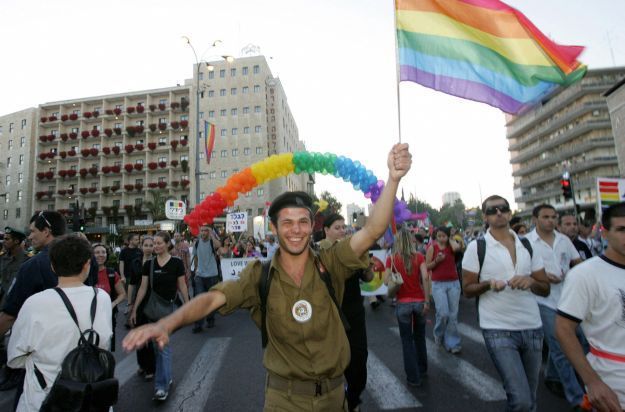 That trend ended (at least symbolically) on June 26, 2015, when the U.S. Supreme Court confirmed that same-sex couples are guaranteed the right to marry, and to have that marriage recognized, anywhere in the United States. Israel has yet to enact marriage or adoption equality, a major problem resulting from a lack of separation between church and state in a number of key areas of Israeli life. But many are working to change that soon.
LGBT activists in Israel – and the community they've helped to build – have been around for decades.
While in Israel, I participated in 40 Years of Pride, a global conference for LGBTQ leaders held in Tel Aviv, hosted by A Wider Bridge and The Aguda, the Israel LGBT Task Force. The conference commemorated The Aguda's 40-year anniversary since it was established in 1975 by a group of 11 gay men and one lesbian. Since that time, The Aguda has grown into one of the largest LGBT organizations in Israel and in the region. Thanks to a passionate team of volunteers, activists, and passionate community members, The Aguda and other organizations have worked tirelessly at the grassroots level to advance the rights of LGBT people in Israel. Other organizations include the Jerusalem Open House (founded in 1997) and Israel Gay Youth (IGY), a branch-off of The Aguda founded in 2001.

During these past 40 years, one decade in particular stands out to me as a significant era in the advancement of the LGBT community in Israel. As mentioned previously, Israel made significant legal achievements during the 1990s, but not all were political. In 1998, Israel chose Dana International to represent the country at the Eurovision Song Contest. Most Americans are unaware that the Eurovision Song Contest is the longest running annual TV song competition and one of the longest-running TV programs in the world, airing consistently since 1956. Recent estimates put global viewership between 100 and 600 million, making it one of the most watched non-sporting events in the world. Thus when Israel sent Dana International, a national pop artist and out trans woman, to the competition, outrage was heard globally. But despite attempts to void her participation, Dana went on to win the contest, converting her and her single "Diva" into overnight international sensations. Dana has since gone on to become a major LGBT icon and one of the world's best-known trans women.
Below is a list of organizations, institutions, and political leaders represented on the delegation with A Wider Bridge and at the 40 Years of Pride conference this summer. Reach out to them to find out what they are doing to help make things better for LGBT youth in Israel, the United States, and elsewhere around the world.
United States
Gesher Chicago (now A Wider Bridge Chicago)
Sexual Minority Youth Assitance League (SMYAL)
Jewish Community Relations Council (JCRC) of San Francisco
Israel
Kehila Lahatavit Ethiopit (KALA)
Likud Party – LGBTQ Circle
Other
Changing Attitudes (UK)
Ritual Reconstructed (UK)
The Argentine Federation of LGBT People (FALGBT)
Beit Haverim (France)
Mayor of 4th Arrondissement in Paris, Chritophe Girard
Swedish Member of Parliament, Olof Lavesson