GLOBAL: May & June 2015 are some pretty incredible months for our International Program, and for the global LGBT movement in general, as we commemorate the International Day Against Homophobia, Transphobia, and Biphobia (IDAHOT) and as we celebrate Pride Month. To check out all of the incredible things our affilaites participated in around the world for IDAHOT 2015, go to itgetsbetter.org/IDAHOT or by clicking the image below.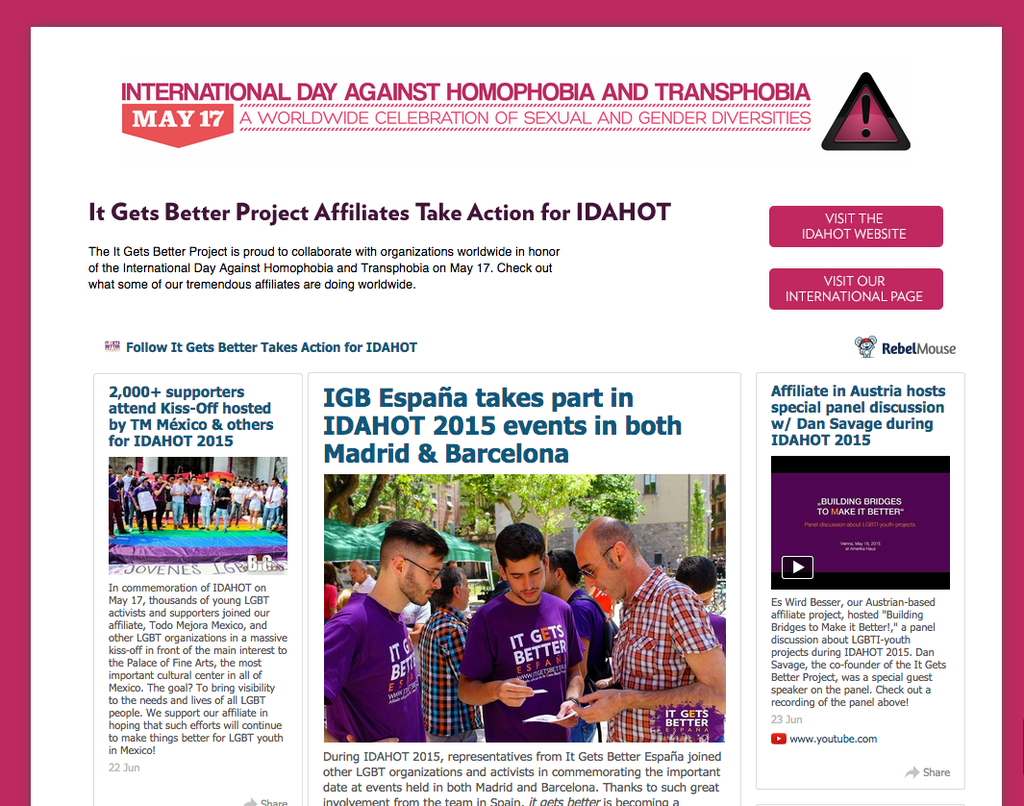 This June has been particularly special after the United States became the twenty-first and most populous country to legalize same-sex marriage in the world on June 26! The U.S. is joining a special group of countries worldwide – 21 in total – that have marriage equality nationwide. These include: Argentina, Belgium, Brazil, Canada, Demark, Finland, France, Greenland, Iceland, Ireland, Luxembourg, The Netherlands, New Zealand, Norway, The Pitcairn Islands, Portugal, Spain, South Africa, Sweden, and Uruguay. Congratulations to all those who helped make it happen and to the millions of people who will be blessed by this decision! #LoveWon
To commemorate this event, you can watch our newest series of inspiring videos, "Fearless: How Ten LGBT Activists Made it BETTER." MSNBC partnered with the It Gets Better Project and the ONE Archives Foundation to feature 10 individuals who were trailblazers in the 20th Century LGBT movement throughout Los Angeles. You can check out all the episodes from the series at msnbc.com/fearless or by clicking the image below.
You can also watch our newest season of "It Got Better," the series produced by L Studio. This season has a fantastic new line-up that includes Rosie O'Donnel, RuPaul, Nate Berkus, Portia de Rossi, Janet Mock, and Andrew Rannells. You can watch Janet Mock's episode below, but don't miss out on the other great episodes here.
CHILE: May & June were stupendous months for Todo Mejora, our affiliate project in Chile. They participated in a special gathering with Randy Berry, the newly appointed (and first) international envoy for LGBT rights from the United States. They trained professionals from the Chilean Ministry of Health in three regions on sexual diversity and adolescence. And, together with GLSEN, they released the Safe Space Kit – a guide to create safe spaces in schools for LGBT youth – for the first time in Spanish.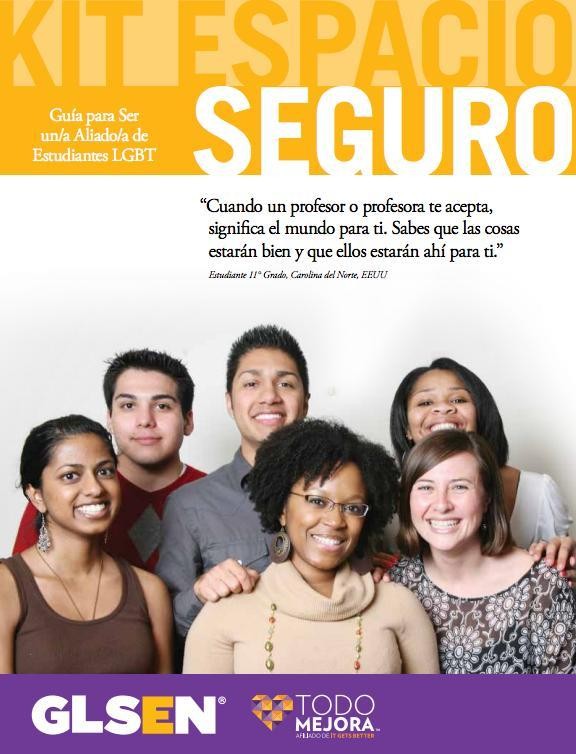 And what would Pride be without a little celebration at the LGBT Pride March held on June 27?!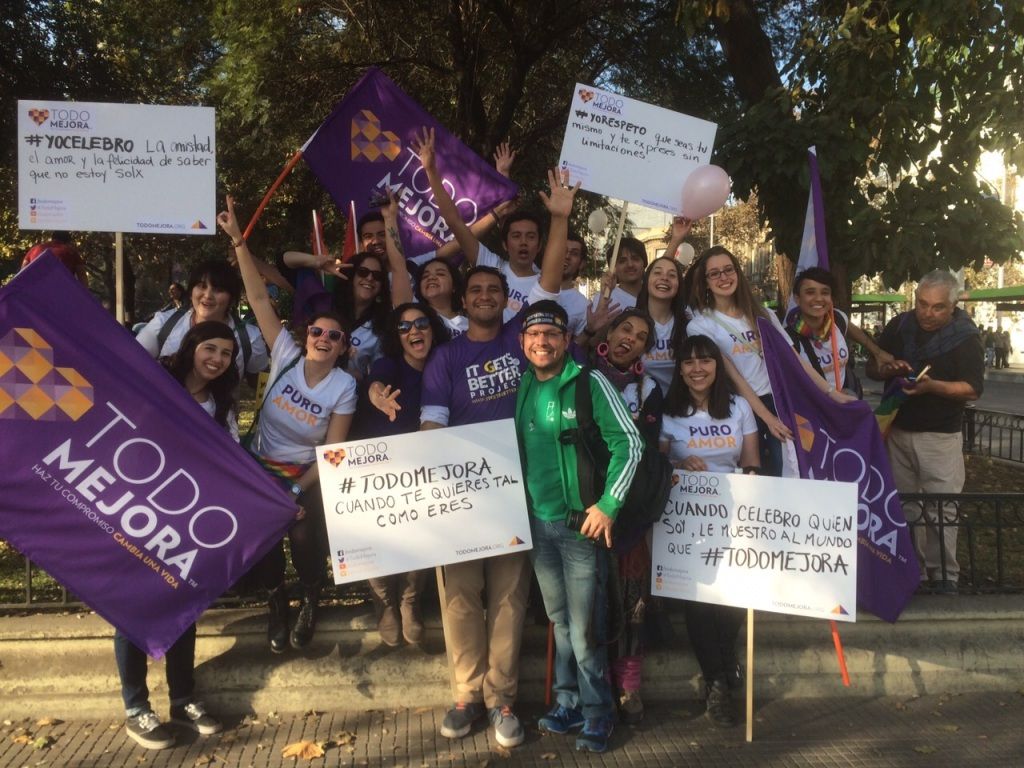 ECUADOR: We are proud to announce the launch of our newest addition to our international network of affiliate projects around the world, Todo Mejora Ecuador! This is our newest affiliate project and our fifth grassroots installment in Latin America! Already the project has done tremendous work in sharing the it gets better message to LGBT youth in Ecuador through radio and social media. You can find out more by clicking their logo below!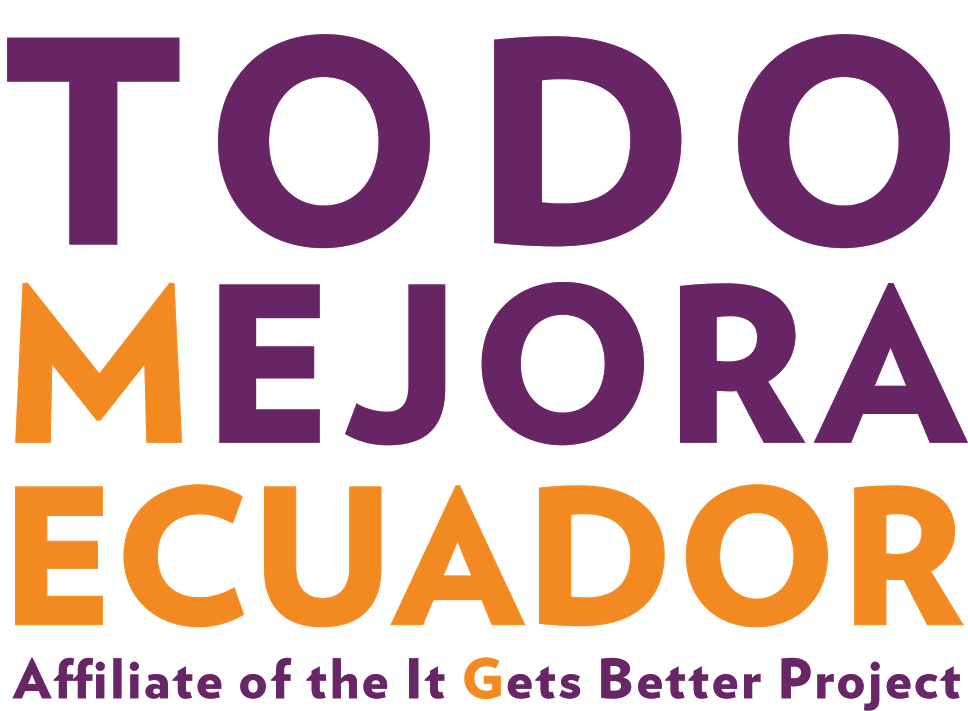 ITALY: While visiting many of our affilaites in Europe this summer, our International Program Coordinator was able to stop in Italy to witness some of the great work being done by our Italian affilaite, Le Cose Cambiano. To learn more about what Le Cose Cambiano is doing on behalf of LGBT youth in Italy, check out this blog post.
MOLDOVA: Our International Program Coordinator also got to meet up with Egali, our affiliate project based in Moldova and our only affiliate in Eastern Europe. Check out this blog post to learn more about some of the things going on there.
Also, thanks to GENDERDOC-M, the leading LGBT+ organization in Moldova and sister organization to Egali, we were able to share recently on our blog 16 beautiful stories of people in Moldova who have found happiness and courage in who they are, in who they love, and in where they live. These stories come from, "Because I Live Here: Snapshot of LGBT Lives in Moldova," a booklet published by GENDERDOC-M in May 2015. To read these stories, click the image below: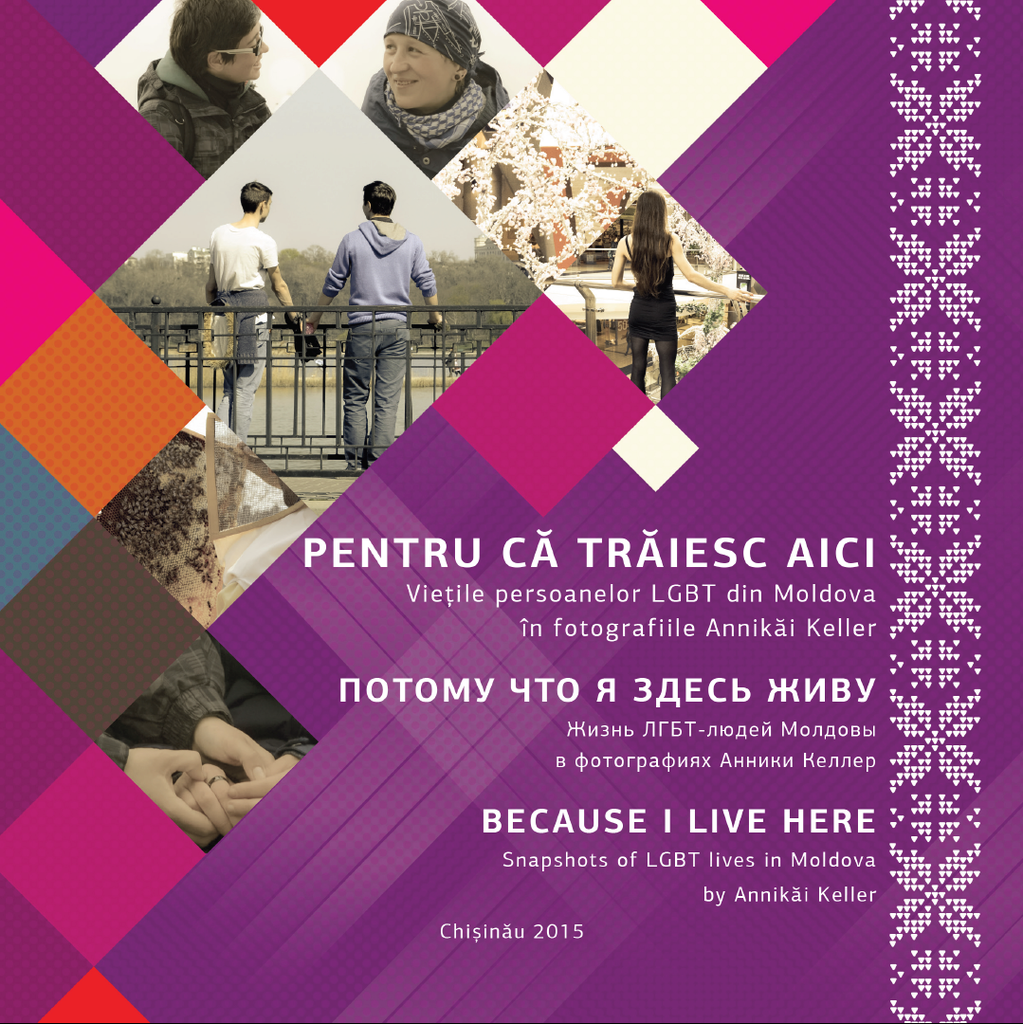 PARAGUAY: On May 7, Todo Mejora Paraguay – together with other local LGBT activists and leaders – hosted a workshop/Hangout to discuss issues pertinent to LGBT believers before the Church. In attendance were clergy and religious leaders in Paraguay that openly support LGBT rights and inclusion in the Church. Click on the picture below for in-depth news coverage of the event (available only in Spanish):
On June 23, Todo Mejora Paraguay was invited – together with other leading LGBT organization in Paraguay – to attend a special meeting with U.S. Ambassador to Paraguay, Leslie Bassett, to discuss their stratgies in combating homophobia and protecting human rights. We hope this is the start to a long and fruitful partnership in Paraguay!
SWITZERLAND: Es Wird Besser Schweiz, our affiliate project in Switzerland, kicked off Pride this month at the country's first events of the season held in Bern. Representatives of the project marched in the city's Pride parade, took pictures of participants holding signs with "#YouAre…", and recorded people sharing their it gets better messages to youth. To see more pictures from the event, check out Es Wird Besser's Facebook page.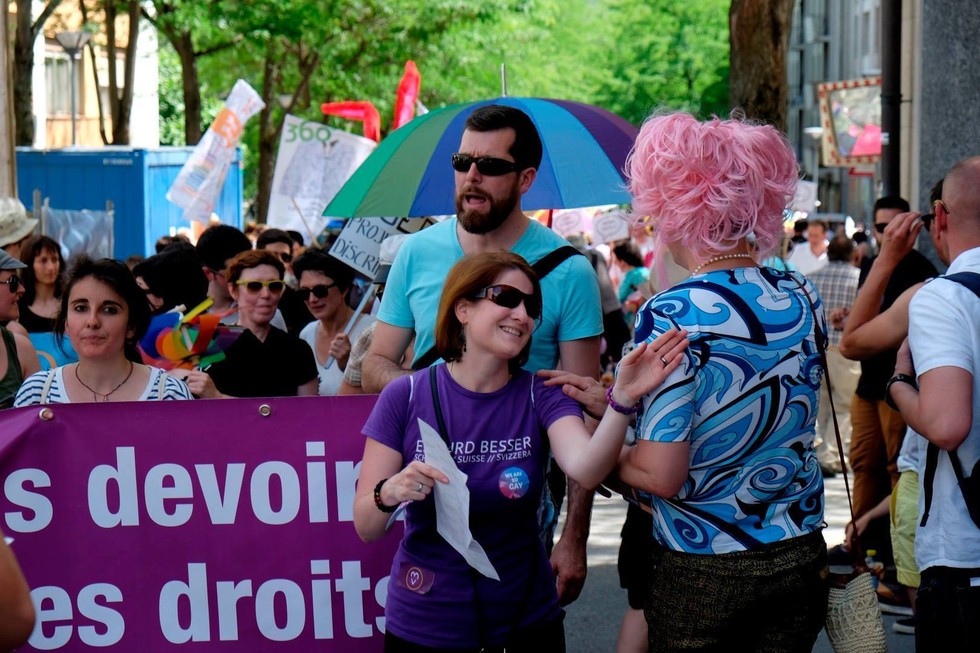 We're extremely proud of all of the incredible achievements of our International Program and our affiliates around the world during May & June 2015. We look forward to more great news in July!