The International Program of the It Gets Better Project started Summer 2015 off right by visiting MOLDOVA, a small but incredible European country snuggled in between Romania and Ukraine. For several years now, we've worked closely with EGALI, the Project's only affiliate in Eastern Europe.

In true It Gets Better fashion, Egali has worked extensively to collect and share LGBT stories of hope to youth in Moldova through videos in Romanian and Russian (the two most widely spoken lanugaes in the country), as well as in English. As always, these videos have been incredibly diverse and unique, reflecting the many beautiful facets of the LGBT community in Moldova. Check out the videos by clicking the image below.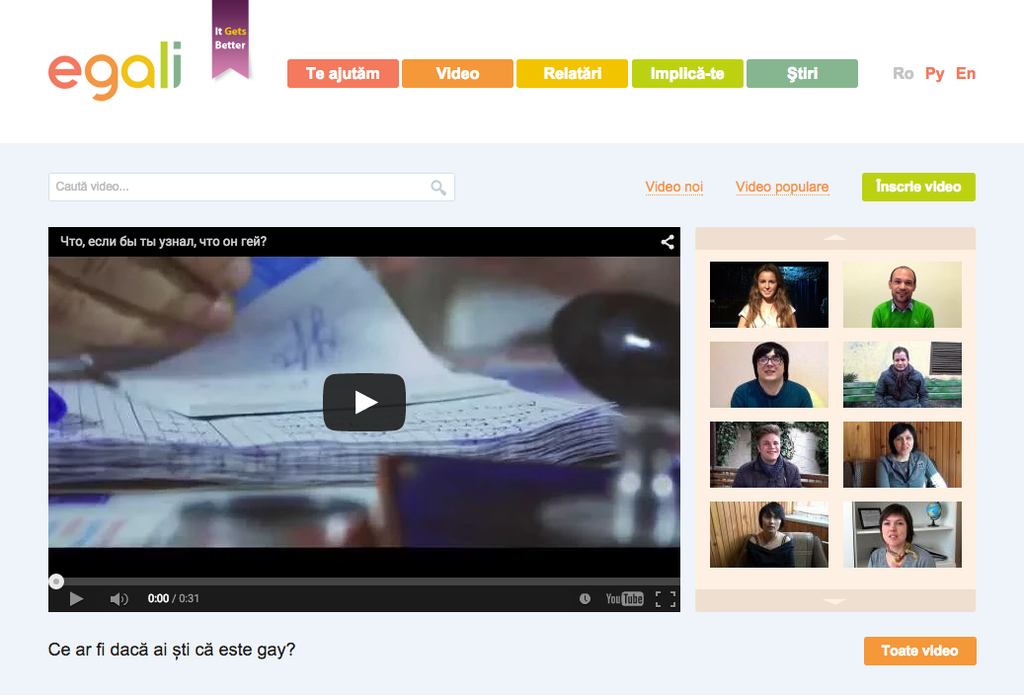 Part of what makes the work of Egali in Moldova so wonderful is their close association with GENDERDOC-M, one of the country's oldest NGOs serving the LGBT community. Thanks to a grant secured through the American Bar Association's Rule of Law Initiative (ABA ROLI), our International Program Coordinator was able to participate in the 14th Annual Pride Events hosted by GENDERDOC-M in Moldova from May 13-17, 2015.
This year's pride events included a pride party and award ceremony, a fundraising charity event, an open-air music concert, a karaoke battle, and more. GENDERDOC-M also hosted "Our Families Here and Now," a conference about LGBT families and youth in Moldova, at which our International Program Coordinator was asked to speak about the importance of stories and positive messaging to empower youth. (To check out a televised broadcast of this speech, click the image below and watch from 49:33 onward.)
Perhaps of even greater significance was the opportunity for our International Program Coordinator to participate in the 3rd Annual LGBT March for Equality held in Chisinau, Moldova that took place on May 17, the International Day Against Homophobia, Biphobia, & Transphobia (IDAHOT). The total number of participants was about 100, including representatives from the U.S. and Swedish Embassies. Compartively, the protestors of the march and the police officers surrounding the event numbered well over 200. Obviously the battle for full-inclusion and rights for the LGBT community in Moldova is far from over, but those moving the effort forward are unrelentless in assuring that things get better for all LGBT people in the country.
We have the pleasure of featuring some of the incredible lives and stories of these LGBT pioneers in Moldova on our international blog. Check out the stories from the recently published booklet, "Because I Live Here!: Snapshots of LGBT Lives in Moldova," by clicking the image below. And don't forget, thanks to these people and organizations like GENDERDOC-M and Egali, it gets better in Moldova!